News of our work India & Bangladesh May - October 2008
LETTER from CHRISTA SEVIKA SANGHA Jobarpar and Barisal
Dear Friends,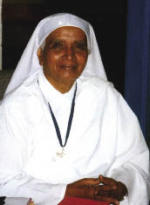 This year, Lent started early, it was on 06 February. I was glad to be back from Birdem so as to be able to prepare the Sisters and the children for the keeping of Lent. As this year is a Leap Year, the children wondered whether the 29th of February was in Lent or not. They were sorry to hear that it was!
Bishop Michael Baroi came to Jobarpar on the 8th of March. He and the Moderator Bishop Paul Sishir Sarkar asked me to have a mat ceiling under the tin roof, as the tin gets very hot. The parish objected, as they wanted to gain a little from the transaction. The Bishop therefore told the Parish to do it, and we were told to do the work in our compound. So I agreed, but the Parish has not done anything so far.
Sister Shipra is good with her fingers, so at Easter she made a paper chicken with a small bowl as a base. The wings and tail were attached to the body later on. The chicken sat on boiled eggs and there was an egg for everybody who came to see us. There are three hens, and so there were plenty of eggs – one hen for the school, one for the Sisters and the other for those who came to see us. Everyone was excited to get a boiled egg from under the hen. There were auditors visiting who had come from Dhaka to check the Social Development Programme. One was a Muslim and one a Hindu. They joined in our Easter festivities, at our First Evensong and in the morning after Church services they enjoyed searching for their boiled egg along with our other visitors.
After Easter, Sister Agnes and Sister Shipra took ten girls from our hostel to Bollobhpur for a Sunday School conference, and Ashwin Biswas took fifteen boys. They had a happy time, but at the end, several of them caught chicken pox. Sister Shipra and one girl caught it too, so there were tears at the end.
At the same time, at Barisal, Sister Shoba, CSS, had to be admitted to hospital for a small operation. At present, she is home again and recovering slowly.
Thank you very much for your prayers for our communities and our children and all our workers.
May God bless you and give you the happiness of this season.
Mother Susila
Superior, CSS
from CHRISTA SEVIKA SANGHA