Half yearly paper - May to October 2004
LETTER from BEHALA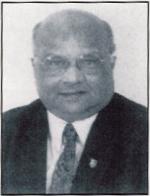 Dear Friends,
Greetings from the Oxford Mission Family, Behala! It is a great pleasure to write far the News Magazine. Sometimes I get a little nervous, as most people have branded me as the 'Phantom Scribbler' Nevertheless I try to control my pen, which appears quite slippery, quite often.
Activities at the Mission are hectic and the boys are growing up beautifully -full of energy and enthusiasm At the moment four of our boys are preparing for their final examination which will commence from March 2004. Private tutors are giving them extra tuition so that they may prepare themselves better I am sure they will do well as in past years.
Our boys are quite often invited to play music in different places. The notable one was when our String Quartet was invited to play at the Oxford Book Store, Park Street on 17th October 2003, for a function organised for the Beatification of Mother Teresa. They played beautifully, in the presence of the Deputy British High Commissioner, Mr Andrew Hall, and his wife, other dignitaries, and our Bishop, the Rt. Revd P.S.P. Raju. After the function everyone greeted the Oxford Mission boys and praised their music. It was a great moment for me, and for all of you who have over many, many years extended your sacrifice, love and support to bring up these downtrodden children to this height. Thank you all!
On 11th February five of our boys were shown on TV when they performed a Naval Symphony for the Chief of the Naval Staff. It was another proud moment for the work and worship of the Oxford Mission.
The Christmas carol evening was well attended. The headmasters of schools, along with their families, came and were pleased to see it The Christmas tableaux were also well attended by local people, and all enjoyed the evening.
As usual our Sports Day was great fun. The big boys are certainly learning fast to compete in other sports events outside. As it is, they are quite popular in their schools. The small ones are full of energy and strength and have done well in the Sports Meet.
The boarders of the Epiphany Hostel organised a carol competition and cultural show on 26th/27th December 2003, and it was done marvellously. They first held this show, which was called 'Holy Night', in 1999, and it is in celebration of Father Theodore Mathieson, B.E Approximately 4,000 people came to hear it at the Mission ground The boys collected funds to organise this function through advertisements and donations. Well done, boys! The Nativity play by the small children of the Oxford Mission English-medium Primary School was attractive; and small children between the ages of 3 and 5 acted well in our Chapel.
The educational tour of senior boys went to Murshidabad, an historic place with quite a few Moghul monuments, mosques etc. The junior boys went to Bakhali -a forest with an area for pisci-culture. They all carried a lot and enjoyed the tours. The smallest boys from St. Nicholas's were taken to 'Fun City' where they had a rollicking lime.
The ENT Clinic is getting busier every week I have just heard from Dr. Ranjan Roychoudhury that he will not be available for two years as he will be in the UK for a special assignment. The second ENT specialist is capable of handling all the patients.
The Industrial School has been given quite a lot of work by schools, by the grace of our Chairman, the Rt Revd. PSP .Raju. The Bishop is ardently looking for ways and means to train our boys better in trades like Carpentry and Electrical and Mechanical work, and at the same time generate funds from doing the work to aid the expenses of ISOM.
The Band Room is always lively. Sanjib MondaI has been given the extra responsibility of teaching boys to play the cello, over and above his tuition in violin and viola He takes separate classes for them He has got about four boys now to learn the cello, and is doing a good job Ananta Makhal is teaching the beginners -they played well in a Monsoon Concert and carried a name for themselves.
Our Republic Day flag-hoisting, with Fellowship breakfast for hoys and staff, was very special this year. We had with us Caroline and Norman McDowall and Paul Harrison. They played an active part in our celebration, and took a whole lot of photographs. Both Norman and Paul are pilots in British Airways, and Caroline is a maternity nurse we were proud to have them with, us and they charmed us all, especially me. We have received some photographs from Caroline. Thanks Caroline, Norman and Paul. Please visit again.
Sister Florence remains ever charming and compassionate. She leaves no stone unturned to sec that the poor children she takes care of get the best Her way of working is superb, and she keeps inforn1ation about the children in their day-to- day progress. She will be 101 on 28th June 2004 - her mission is growing as she grows in age. Thank you, Sister! You are great!
We had some lovely times with Lilias Redpath who was visiting Sister Florence I had her over for lunch -'fishy -no meat' My wife Kanchan enjoyed that afternoon with Lilias, and they kept on talking while I enjoyed their homely conversation Lilias, Sister Florence, Father Ian Weathrall and I had a morning Communion service in Sister's cottage Father Weathrall conducted the service very touchingly. It was the first time I had seen tears of love in Sister's eyes. I also enjoyed English tea, with English cakes and biscuits, along with Lilias. It was an oasis for me in a desert of soulless toil. Thank you, Sister.
Well, I wrote in the beginning 'Phantom Scribbler' -you can now realise it's true'!
I take this opportunity to thank Bishop Bill Down, Mr John Corrie, Mrs. Mary K Marsh, Mrs. Gill Wilson and all other members of the Oxford Mission UK Committee for their unending help and support. I thank all donors, subscribers and supporters without whom the work of the Mission could not continue. I pray for the health and happiness of each individual. I also thank Bishop P.S.P. Raju, Bishop of Kolkata and Chairman of the Oxford Mission Trust Association for his unstinting support of the Mission's work, and his gracious guidance, advice and pursuance of the uplifting of the boys. His vision of a more prosperous Oxford Mission, with better facilities for the boarders, is a source of encouragement and strength to us I thank the OMTA Board Members and the Consultative Committee members who advise me in the work of the Mission.
I also thank the staff of the Oxford Mission, Shanti Nivash Old People's Home, St Joseph's Primary School and the Oxford Mission English-medium Primary School for their hard work and dedication; the doctors, private tutors, musicians and all others who help the O.M. in different ways. I must not forget to thank our boys for being so disciplined, good and kind.
Hopefully, I shall be with yon all in June/July 2004 Please pray for the Mission 's work, and that we may be faithful to its ideals and purposes.
With regards and gratitude,
ARIJEET ROY, Administrator