Half Yearly Paper - November 2004 - April 2005
LETTER from CHRISTA SEVIKA SANGHA JOBARPAR and BARISAL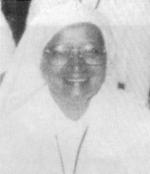 The monsoons are here - and the rain water has come down from the hills with greater force as more and more trees are being cut down. Most of our embankments have given way and there have been floods all over the country. We have had joy and sorrow this year - a full quota of the latter!
In April we had a telephone call from Behala to say that Sister Florence had passed on. We knew she had been poorly for some time, but it was a shock all the same, and sad to realise that the last of the S.E. Sisters in India had left to join the Community who have gone before.
We planned to go to the memorial service, usually held forty days later. Friends in Dhaka said we couldn't get passports and visas in such a short time, and to try Barisal where there is not such a large crowd at the Passport Office. So we did, and got our six passports and visas ready by Thursday to leave on Saturday morning at 5.30 a.m.. We reached the border by midday, and the Revd. Paritosh Canning and Ratan were there waiting for us with a minibus.
Once we had crossed, and formalities were over, we were able to stop and enjoy Indian singaras and cups of hot tea. Then we sang or slept all the way to Behala, and it was good to meet again kind Mr. Arijeet Roy and his secretary Reena. Also the cook Sambu, who was ready with a hot rice meal to refresh us all.
On Sunday we went to the Cathedral for the Morning Communion Service. The clergy were very kind to us and showed us our places. Father Francis S.P .B. was having a long holiday, so he joined us for the day as we toured Kolkata. Now there are so many 'flyovers' that we couldn't make out Bishop's College below us.
On Wednesday there was a beautiful Service of Thanksgiving for Sister Florence. There was a large picture of her surrounded by flowers in front of the altar - and the Chapel was full. The Metropolitan spoke and so did several others. Even Bonno, Sister's handmaid, was able to say something about her. After the service there was a welcome cup of tea, and an opportunity to meet many friends outside the Chapel.
On the next evening Sister Sobha and I left for Chennai to have a few days with my sister Shanti and her daughter Lini. On Sunday we went to the Cathedral there. It was Pentecost, and so the church was beautifully decorated with white flowers and satin ribbons. Later we went to the cemeteries at Chennai and at Tambaran where my niece who had recently died was buried.
When we returned to Jobarpar we heard that there had been dacoits in our compound. There were about eight of them, and they first entered late at night. Later they were joined by some of our local men who helped them. They beat the nightwatchman after tying him up to one of the pillars of the Church with his head down and legs up. Then they went to the Social Development Office, tied up Mr. John Tarun Mondol, the Manager, and raided the place. Later they rode away on the best available motorcycle. They left behind much tension and fear.
After this we had to cope with the floods. The Prime Minister has said that the people of Bangladesh have got to get used to living with floods. Water rushes down from the hills, and the seas rise up and come over the land. The north-west embankment at Jobarpar started to break away. We blocked it with bamboos and banana rafts - and lots of prayers. We were saved, thank God, along with the Development building and the Church.
We were not so lucky on the south-eastern side as the embankment near Goila gave way. The World Vision people put up a bamboo bridge, but with so many people using it, it soon swayed badly. The water rushed in from the south-west - on to all our fields and vegetable plots. Sister Sobha said that we could catch fish from my bathroom window! Now the flood water is less - and has left a lot of slushy mud. A friend came from Kushtia and said that there they were eating cabbages and cauliflowers. We haven't even begun to sow seeds!
We have to rehabilitate - where to begin, and how? The Church of Bangladesh sent relief for the very poor - we were able to help the not-so-very-poor, who are usually forgotten by relief workers. These are the ones who have very little income, and have to cope with high prices and many mouths to feed. Now more 'relief has come for all. Our two Hostels had two bags of 'relief' each. One bag contained 15 kas of rice, 3 kas of dal (lentils), 1½ litres oil and 1 ka salt, 3 packets of saline and 3 packets of fitkari (purifies water). In the Girls' Hostel all the rice and dal will be made into kitchuri, so that all the girls will have one meal of 'relief'. I hope and pray that people will soon work for their food and not be dependant on relief: in fact one family has already refused relief.
Another problem has been the increase in the number of snakes. One baby cobra was noticed near the lectern in our Chapel once the lights came on after 'load-shedding'. Another big black cobra was just outside the school last afternoon. The staff were anxious, and the children very excited which made the snake raise his hood and 'show off to them. It took several men to kill it with jupies (long rods with spikes).
"Open University": our plan for more education has had to go on. The classes are at Barisal. The Second-Year group has four Sisters: Agnes, Kalyani, Shefali and Shalomi. There are two teachers too, Rena Roy and Deben Bayen. Brother Martin goes to B.T. classes. For the First-Year group there are Sister Dorothy and two pupil-teachers from Barisal - Elizabeth and Sipra. It's all helping to raise the standard of education.
The Women's Group: after weeks of being housebound they are coming out and ready to do something. On 8th September we are hoping to have our 'Women's Day'. We are expecting at least 120 women - other churches also send their women leaders. We are hoping to have a busy and happy time. The Sisters are acting the story of Ruth.
On 1st October people from the Bangladesh Bible Society are coming to give talks on the Bible suitable for children. I hope it will help them to love their Bibles more.
God be with you all. Please pray for us in the many difficulties we face in our country of Bangladesh - and give thanks for the many blessings.
SUSILA, Mother C.S.S.
P.S. After sending my contribution to the News Magazine so much more has happened here. From early September we had non-stop, heavy rain for six days. As there was a depression in the Bay of Bengal, the sea-water along the coastlands was very high, and the water from the fast-flowing rivers could not be absorbed by the sea. This caused more damage. All efforts to rehabilitate were washed away or drowned. Along with man, animals and creatures suffered too: not only snakes, but worms and frogs, took shelter in the house! A go-shap (a three-foot-long iguana) also entered the house. It liked crossing my room with its slow walk, tongue flicking out, eyes on me. We wondered what either of us would do next. Finally it took refuge in the roof, making the most noise possible. Once the rain stopped everyone was happy, as everyone went back to their usual place!
Brother Martin was ordained Priest along with four other Deacons at Bollobhpur on 19th September. None of us could make it as the roads are so bad. On the 21st there was a celebration in the Epiphany church: five priests celebrated, Father Martin in the centre, the Revds D. L. Kirtunia, and the Revd. Simson Mazumdar from Jobarpar on his left, and Father Francis and the Revd. Manoroma Mitra on his right. There was a public meeting in the Golding Hall at 11 a.m. and a feast in the Boys' Hostel dining room at 2 p.m.
On the next day at 3 p.m. there was a special meeting in memory of Father Rigby. One-third of the pupils present were Christian - two-thirds were Muslim. As there was heavy rain we had to remain in the Hall till 6 p.m., and enjoyed cups of tea provided by the Staff of the High School - a first-time experience! There is so much to be thankful for.
SUSILA
24 September, 2004