News of our work in India & Bangladesh May - October 2005
NEWS AND EVENTS
A Notable Anniversary
This year is the 125th anniversary of the founding of the Oxford Mission to Calcutta, as it then was. We thank God that, through all difficulties and setbacks, the work of the early Fathers and Sisters is still today so splendidly carried on: as you will see from the reports of John Corrie, Chairman of the U.K. Committee, and Mary Marsh, General Secretary, on their visit to India and Bangladesh in January 2005.
Our President, the Rt. Revd. J Bill Down, will be delighted to preach or lecture on the work of the Mission today, anywhere within reasonable reach of his home in Witney, Oxfordshire. Please let Mary Marsh know if you would like him to come and talk to your parish, school or society.
Tsunami
Amongst the countries of South-East Asia which suffered so terribly from the tsunami in December, we are thankful to say that Bangladesh was not one. Usually liable to disastrous flooding and I extreme weather conditions, our compounds at Barisal and Jobarpar reported nothing worse than Mother Susila's 'waves on our waterways' at the moment of impact of the tidal wave. We send our deepest sympathy to those who were not so fortunate. May the souls of all who perished rest in peace, and those who survived be helped to rebuild their shattered lives and livelihoods.
Elizabeth Evans
We were sad to hear that Elizabeth, who once tried her vocation to the Sisterhood of the Epiphany and remained a life-long friend and supporter of the Oxford Mission, died on 13 November 2004. Her end was peaceful. Dr. Margaret Dawe writes about her in the article entitled Elizabeth Evans.
Bunty Newport
Another sad loss was that of Bunty Newport, who died last year after many months' painful illness. Bunty, widow of a clergyman who died shortly after his retirement to Winchester, devoted her life tirelessly to good causes, especially Amnesty International. She became a supporter of the O.M. in 1984 when the Behala Boys' Orchestra toured the U.K. with Father Theodore, and arranged a very successful concert for them in St. John's Church, Winchester. A talented musician, she wrote hymns which were widely performed, and royalties from these she gave to the Mission in 1998.
ENGLAND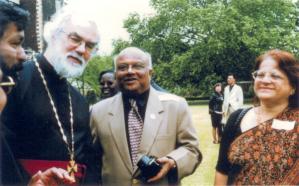 Arijeet and Kanchan Roy with the Archbishop of Canterbury 7 July, 2004
On his visit to the U.K. last summer Arijeet Roy, Administrator of the O.M. compound at Behala, was invited with his wife to Lambeth Palace to meet the Archbishop of Canterbury, the Most Revd. Rowan Williams. During the conversation Arijeet took the opportunity to ask when His Grace would come to India, and was told that he knew the history of the Oxford Mission and would like to go to Kolkata.
We hope he will visit us, and think he will be impressed by what he sees.
BEHALA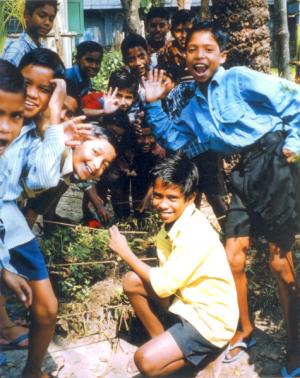 A cheerful group from the Junior Boys' Hostel
Kathleen Betts
Kath was a regular worshipper at St. Peter's Church, Clapham, London, a Mission Church founded in 1897 which has always supported us. She was the mainstay at St. Peter's for organising fund-raising for the O.M. over many years. Sadly she died on 18 September 2004, a few weeks before the 125th Dedication Festival at the church, at which our President, Bishop Bill Down, presided and preached. 'It was a great shame', says the Parish Magazine, 'that she wasn't able to greet our distinguished guest...I am sure that she was the distinguished guest when being received at the gates of heaven by St. Peter'.
Another centenarian Gladys Clayton celebrated her 100th birthday on 12 December 2004. She worked in the Oxford Mission Office in London from 1954 to 1969: "a lovely post", she says, "meeting the Brothers and Sisters on their coming home from India on furlough three or four at a time". Congratulations to a faithful friend and supporter.
More violins needed
The Music Department at Behala is badly in need of at least two more violins for the little boys to learn on. If you have one you can spare (not of great value), please let the Office know and we will try and arrange for it to be picked up locally.
A new telephone number
Mother Susila 's telephone number at Barisal has been changed. From England it is now 00-880-431-64981. She has no telephone at Jobarpar, but you can always contact her if necessary through Mary Marsh at the Office, or by the e-mail address given on the contacts page.
Love and best wishes as always from all of us in the U.K. to our friends and supporters everywhere. We are so grateful for all you do for the many poor and needy children in the Mission's care.
THE EDITOR
P .S. We have just heard of the death of Margaret Rabson, a dear friend of the Mission for many years and especially of Mother Susila and the Sisters of the Christa Sevika Sangha. We will have more details of her life in our next issue.
'Margaret Mary' was a lovely lady: may she rest in peace.