News of our work in India & Bangladesh May - October 2005
LETTER from BARISAL
I must thank God for His endless blessing upon all the activities in our O.M. compound. I believe that your loving prayer is with us, and that you will continue to pray for our future activities too. You will be happy to know that everything ran more or less smoothly during the reporting period. I am going to mention the following uncommon issues;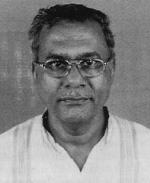 Sunday School Seminar
A seminar for the Sunday School and Boys' and Girls' Brigade children took place in the O.M. Epiphany Church last November. The theme was 'The Kingdom of God is with the children'. More than 150 children attended. There was a discussion meeting as well as a sermon based on the theme. The children took part in the Brigade games, and with the Sunday school teachers and the invitees were entertained with a grand feast. The seminar was helpful and effective for our children, and they were very happy throughout the day.
St. Anne's Medical Centre is functioning well. But due to the retirement of three old employees, there was a need of at least one employee to be newly appointed, which was done through an interview by the Hospital Management Committee. We long for your prayer for staff members, so that they can become strong evidence of the healing of Christ through their sincere service to the non-Christians.
There are about 100 employees on our payroll who are very poor and drawing a small monthly salary which is mostly their only source of income. On the other hand the price of rice and other essential commodities is increasingly high. Rice is the staple food in Bangladesh. Due to the excessive rainfall last rainy season most of the vegetables were destroyed. As a result there was a crisis, and our people with small earnings were suffering. Therefore we distributed l5kg of rice each month to each family at a subsidised rate from October - December 2004. It was a great help to our poor workers. We enhanced by 5% the basic pay of the workers in January 2005. We also sell our vegetables, fruit and our pond fish to them at a cheaper rate.
Advent and Pre-Christmas Functions
The Hostel children were very enthusiastic and happy to organise these in their own sections (boys' and girls' sections) before they went for their Christmas holidays. They arranged a cultural programme where most of the children took part in Christmas dramas, songs, dances, comic sketches and recitations.
The children and the staff members were given Christmas gifts. A grand feast was followed by the programme. Many elites of the compound, including the Fathers, Sisters and teachers, were invited, and everyone was happy.
Another important issue was lighting the Advent candles in every house as well as in the Hostels by a lady worker of the Women's Committee in the parish. She, along with the members of each house, prayed and requested to each family to light the candle every evening and to pray together, until Christmas Day. This programme was to make Christians ready for the coming of the newborn King in everyone's heart.
Nobin Boron Anusthan
This programme is to accept the newcomers in the Hostel as well as in the school for the new session of 2005. It is to help them to adjust nicely in the new environment, and to make friends, which may help to remove the homesickness. We want your prayers for the inmates in both the Hostels (Boys' and Girls') so that they can adjust well and continue their studies, to fulfil the desire of their poor parents who try their best to go on supporting them financially, even through selling their good possessions rather than enjoying them themselves.
The O.M. Manager, Mr. Byapari, was ill for nearly a month in Jaunary 2005, due to his heart problem. His heart rate was very irregular which was a danger for him, and he had fainted four times since the middle of October 2004. Now he is O.K. after an operation setting up a pacemaker. The operation and the pacemaker, including necessary medicines, cost him more than Tk.1000/-. Mr. Byapari is grateful to God and to the Church authority for their loving prayer and sympathy. He thanks all of his friends and wellwishers at home and abroad. Please continue to pray for him. Just after his release from the hospital he came back to Barisal to give a reception on 29 January to Mrs. Mary Marsh and Mr. John Corrie, who paid their kind visit to O.M. Barisal. All the section heads, the Management Committee members, all the C.S.S. Sisters who live in Barisal, and the members of St. Paul's Brotherhood, were present at the reception meeting which was followed by a grand tea party arranged by the Manager. Our guests were very happy in the party.
The International Mother-Language Day was observed on 21st February 2005, in schools, colleges and universities throughout the country. There were seminars and symposiums. Very early in the morning the children of our schools went to the Barisal Shahid Minar (the memorial of the first language martyrs), to show respect by laying flowers on the Minars. It was a very heart-touching day for the nation as a whole. It was an international holiday.
It is nice to report that every matter in the different sections was going on smoothly. But sometimes a sad thing happens in our life. I am very sad to report the death of our sister Miss Smrity Kona Mondol in St. Mary's Home. She was a real orphan who was born handicapped, and given as a child to our Epiphany Sisters to bring up in the orphanage. She got love and care there, grew up, and studied up to Class VIII. The loving Sisters arranged nursing training for her in Chandragona Christian Hospital. She qualified as a junior nurse there, and served in several hospitals including St. Anne's.
BANGLADESH
(see Bishop Baroi 's Letter)
When she retired from nursing, she was again full-time in St. Mary's. The staff and girls took great care of her. She died at the age of 65-66, on 26th February this year. Many of the St. Mary's staff and children cried and were very sad when Smrity died. One of the notable things she did was to arrange marriages for two or three nurses. They are very happy, owing to Smrity's skill in choosing the right bridegrooms for them. Many people came to her funeral, and there was also a memorial prayer meeting in St. Mary's on the following day. Then the Sister-in-charge of the institution invited all visitors to have tea in St. Mary's common-room. Let us pray for rest, peace and light for her soul.
This year the school final exams started in March, and at the time of my writing this, 12 boys and 11 girls are taking the exams. Owing to the three different groups (Humanities, Science and Commerce) finishing their exams on different dates, the boys and girls have to leave their Hostels on different dates. Therefore in both Hostels there were cultural functions and parties. Most of the students were sad because they were leaving their school and Hostel friends, and their beloved teachers. The teachers and Hostel staff gave them encouragement and comfort. We prayed for the students who were leaving and gave them presents.
This is all for the time being. I thank my readers for their patience in going through the report, and ask for their continued prayer and support for our activities in O.M. Barisal, Bangladesh.
TUSHAR KANTI BYAPARI
Manager