News of our work in India & Bangladesh May - October 2005
LETTER from CHRISTA SEVlKA SANGHA JOBARPAR and BARISAL
Christmas began early at Jobarpar, with the children's Christmas party before the end of the school year. It was followed by a 'Thanksgiving' party for our neighbours which was a sort of preparation for Christmas. Then on Christmas Day we all went to the Midnight Mass in the Parish Church. When we returned at 2 a.m. we gathered together in our Common Room and enjoyed our Christmas feast of letters, cards and gifts. The morning service was very crowded, as many from the towns come to be with their families in their village homes and enjoy the traditional Christmas delicacy pita.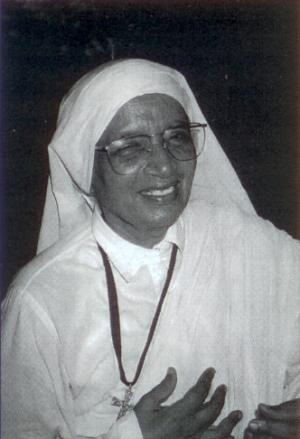 Next morning Sister Agnes was the first to callout that the water in the back pond was "climbing up the wall". I went out to investigate, and found that the usual quiet water was covered with waves and rising up the steps, and the fish were jumping out of the water on to the land. Part of our drinking water system had burst, and there was general confusion. It was over in half an hour, and later in the day we heard on the media that we were on the fringe of the tsunami. Anxious thoughts went out to friends and relations in South India, Sri Lanka, Malaysia, Myanmar and Thailand, and to Helen Tateyama and her J.I.C.A. Associates in Cambodia. There had been much destruction and loss of property but no known lives had been lost. Rehabilitation work is going on now as far as possible.
A Trip to Kushtia
Early in January there was an invitation to meet Dr. Mrs. Mary Ellison, Moderator of the Methodist Church of Scotland, either at Dhaka or at Kushtia. Four of us - Sisters Jharna, Sipra, Sobha and I, along with Father Francis and the Revd. Simpson Mazumdhar - chose Kushtia, and we went by road. We knew the Revd. Matthew Bicket and family, of Scotland, and also remembered Dr. Connan at Rajshahi, a Scottish friend of our Community. We first stopped at Meherpur. The Church building there is beautiful - but there are only 19 Christian families. The C.M.S. missionaries in Kushtia did build beautiful churches, and have trained their people to keep them beautiful. In our village area I have seen goats housed under the altars! and have felt sad.
From Meherpur we went on to Bollobhpur. Sister Gillian Rose, an old friend of ours, gave the four of us a 'cabin' in her Medical Centre. It was good to meet Gillian again, and many of our girls who are being trained as Nurse Midwives there. There was a Service of Thanksgiving in the Parish Church which was packed full. Dr. Ellison concelebrated with our two Bishops - Bishop Michael Baroi, and Bishop Paul Sishir Sircar, and 22 Presbyters of the Church of Bangladesh.
After the service there was a public meeting under a very large pandal (canopy) which was soon very full. Dr. Ellison's husband and their Secretary for Missions were also present. After a formal meal we all dispersed and went to Kushtia Town. Bishop Sircar wasn't there but Prodip and Ruma Mazumdhar, and Porag Pandey's wife Daisy's family, looked after us. Bishop Sircar has invited us to Kushtia. The Diocese of Dhaka has two Communities - the Sisters at Haluaghat, and us, the Christa Sevika Sangha - but there are no Religious Communities in Kushtia. This was another reason for our going to Kushtia, and we who went there felt that God willing Kushtia Town would be a suitable place for us in the near future if we do start a third House of the Community.
Convention at Chaurkhuli
After Ash Wednesday there was the yearly Church of Bangladesh Big Convention at Chaurkhuli, which is not far from Jobarpar but difficult to get at. Some of our Sisters went with 17 Class V girls: Bishop Mondal had to speak at the Convention and he wanted the girls to act a small play, 'The Woman of Samaria'. The girls had only five days to prepare but they managed very well, and it was much appreciated.
After the Convention Bishop Michael and Mrs. Mary Baroi came to Jobarpar with another Methodist friend, Christine Elliot. They had planned to stay only for a day, but due to a hartal (strike) they stayed for three days, and Christine was able to visit various villages round about us. This time we were all very grateful for the hartal!
Sports Days
Mid-February is the usual time for our various schools to have their Sports Days. Yesterday morning Jobarpar had their Day, from 9.30 a.m. to 1.30 p.m. The weather was kind to us. From 2.30 p.m. onwards the Oxford Mission High School at Barisal had their Sports Day -they also had a blaring loud-speaker! Tomorrow the Day Primary School will be having their Sports Day - plus a 'mike'!
Yesterday Father Martin S.P.B. organised a Dance-Tableau with 100 High School boys and girls. It began with scenes of the creation of the world - land, birds, beasts, flowers and the sea. Then disaster strikes - there is a great 'tsunami' - the big waves crash over the land and destroy nature. Many people die - but out of the destruction new life arises; Scouts and Guides come forward to help clear the debris, and they raise some people up to build up the world again.
Teachers' Training Course
A Training Course for Sunday School Teachers was held recently at Gazipur, and was attended by 450 people. Forty were members of the Church of Bangladesh, and among them were C.S.S. Sisters Agnes and Kalyani, and Brother Joel from St. Paul's Brotherhood at Barisal.
JOBARPAR
A New Postulant
We are happy to report that we have a 'new girl' wishing to enter our Order. Her name is Mary Ann, and she comes from the village of Boisahat. She has spent some time with us, and has now gone home to think things over, and to make quite sure she is making the right decision. We hope she will return in a few weeks and become a Postulant, and maybe a Novice in the summer. We welcome her with all our hearts.
A Visit from the O. M. Chairman and General Secretary
In January we had the great joy and encouragement of a visit by John Corrie and Mary Marsh. They stayed with us at Barisal and at Jobarpar, and saw everything that was going on. The children loved seeing them, and put on entertainments in their honour. Mary was able to attend with us a service of Holy Communion to mark the 35th anniversary of the founding of the Christa Sevika Sangha. Afterwards I had a big surprise - I was presented with a cake with 80 candles and a bunch of 80 red roses, in celebration of that happy occasion and also of my 80th birthday last year!
During Lent, in preparation for Good Friday the boys and girls act the various Stations of the Cross in the church as part of their Friday worship. They are solemn and sincere in all their actions, and it is very effective.
So now we look forward to the glorious Festival of Easter, and celebrate the Resurrection of Our Lord and Master Jesus Christ. May God bless the Festival to all who celebrate this great feast day for His Glory and our Peace.
SUSILA, Mother C.S.S.