News of our work in India & Bangladesh May - October 2005
LETTER from BEHALA
Dear Friends,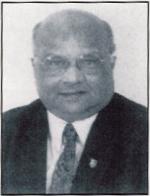 Greetings from the Oxford Mission Family (your extended family) from Behala, Kolkata, India!
It's about 1.30 a.m. now, and I am scribbling these lines to inform you of the happenings here at the Mission. It's impossible to sit down and concentrate on writing, as by day I am like a vagabond running from one place to another, both within the compound and without. Of course it keeps me fit and agile. Ha! Ha!
This year the boys, staff and of course the Administrator were overwhelmed with joy with the presence of lovely people from the Oxford Mission in the U.K. - Mary Marsh, John Corrie, Norman and Caroline McDowall and Katharine and Rana Mitter from U.K., and William Wilson (brother of Katharine) from America, with his wife Darunee and their two little 'dolls', Miranda and Charlotte. Everyone at Behala enjoyed their company and received so much from them. Mary played cricket with the St. Nick's boys; Caroline arranged drawing and a singing competition; there were the Sports and a tug-of-war. Donations were received from William and family, fruits and candies from Mary, crayons, felt pens and drawing-books from Caroline, and a lot more. Everyone had a wonderful time. Thanks to all for your loving encouragement and warmth of heart and soul. All good things come to an end, and again the daily routine continues at the departure of our benefactors.
Katharine and Rana's reception at the Grand Hotel, Kolkata was super. The hall glowed with so many pretty and elegant ladies and handsome gentlemen. Amongst the gentlemen John Corrie had the towering height, and then Father Ian Weathrall. It was a lovely occasion - East meeting West - good fun, delicious food, and a lot of nice singing by the people of Rana' s family; not forgetting both Western and Indian dances.
Lovers of the O.M.
The Mission has received some handsome monetary gifts from benevolent friends. Donors have been very kind, compassionate and caring for the uplifting of the Mission's work. The boys, staff and myself pray for their health and happiness at our daily Chapel worship.
We also received an earmarked donation from a compassionate person (anonymously) to provide showers for the boys. This kind person must have realised that swimming in the tank is not enough - the boys should be given the opportunity to take regular normal showers. Thank you very much, kind donor. The Oxford Mission family prays for you and your charitable, loving kindness.
The world would be a beautiful place if many more people like our donors existed. At least the downtrodden and poorest of the poor would get a place to live under the sky - with dignity. I did, along with my wife Kanchan, realise during our stay in the U.K. last June/July how many there are who support the O.M. there. THANK YOU, each and every one.
We had the pleasure of the company of Bishop Paul Sisir Sarkar, Bishop of Kushtia in Bangladesh, with his wife and children. Their presence at the Mission gave so much encouragement to all.
Boys
Our boys are doing very well in all walks of life: in their schools, in studies, sports and extra-curricular activities. They go out to various competitions and they do not fail to bring back trophies. All this is your doing by your prayer and support. Recently they were invited to a Rotary Club 'sit and draw' competition. There were about 300 children participating. Guess what! Our junior boys took the First and Second prizes in the Junior group, and our senior boys the First Prize in the Senior competition. Praise the Lord! Again, they do all this by looking up to you for your love and generosity.
Our boys in the Navy Band are doing well. They came to Kolkata on holiday and visited the O.M. Seeing their personalities I felt very, very proud, and due to the expansion of my chest a few buttons broke - never mind, Kanchan can stitch them back for me! They are fabulous.
Shock of the Tsunami
We were all dismayed by the devastation caused by the tsunami - like the whole world. We wanted to help the victims with whatever we could. Bishop Raju, our Chairman, appealed to all to contribute in cash and kind for the helpless people. I appealed to all my staff to donate a day's wages, which they did with great happiness.
Then one of our senior boys came to me and said, "We, the boys of O.M., would like to contribute". I asked him, "What would you like to give?" The answer was, "Sir, on Sunday night we get a meal of lovely chicken curry - which costs you almost Rs.l000/-. We wish to have vegetables next Sunday and the Rs.l000/- to be donated to the Tsunami Fund of the Diocese of Kolkata". I had no words to express my thanks to them for their sacrifice and generosity. They are great. The Rt. Revd. P.S.P. Raju praised the children and staff of the O.M. for giving for the needy.
Epiphany Festival
It was a very pious moment. Many priests, deacons and lay people attended. I guess it was a congregation of 220 people. The R. Revd. P.S.P. Raju, Bishop of Kolkata and Chairman of the Oxford Mission Trust Association, delivered a touching message on Epiphany and the contribution of all past Fathers, Brothers and Sisters of the Epiphany. Our boys played the hymns melodiously, and the Sung Eucharist was divine.
After the service the Fellowship Tea took place, and all mingled so well, praising the Lord for Epiphanytime. The Bishop joined in, and left a good memory with all who came. Our Trustees and Consultative Committee members were present. The evening's offering was donated to the Tsunami Relief Fund. The whole function was wonderful.
Memorial Service On 20 February a Memorial Service for Roger Radice was held in the Chapel, to mark the first anniversary of his death. It was well attended by our boys, staff, family and students. Sanjib Mondal, who was very close to Roger, organised the service, and the music was excellent. It was followed by a Fellowship Dinner. A good, humane gesture by Sanjib and his wife Seema. A CD of the music will be sent to the Office.
Annual Sports
Our Annual Sports were held on 1st February 2005. Our Chairman could not attend but Mr. John Corrie, Mrs. Mary Marsh, Mrs. Caroline McDowall and Father Ian Weathrall were present and enjoyed themselves. They also took part in the tug-of-war. It was a very happy day, and the boys enjoyed every moment. Prizes were given out by the guests from the U.K.
Industrial School (ISOM)
We recently made some steel hospital beds at ISOM for Father James Steven's charity Udayan, and have been approached by a school to make some desks and stools. These orders give experience to our boys. However we are trying to improve the function of ISOM, and are in touch with experts for advice. The boys are doing well, both seniors and juniors, in music, dance, drama and tableaux.
The late Sister Florence S.E.
I cannot conclude a letter without mentioning our spiritual, humble leader - Sister Florence. She was a living legend, and showed everyone what love and sacrifice meant. She was a great missionary, a visionary of love, caring and sharing for the poor: for me, then and now, a talisman of my strength and peace. A lost saint from the O.M. that cannot be retrieved.
Mary made over Sister's battery-operated buggy to Sister Tina of Loreto College, as desired by Sister herself and the donor of the buggy - Mrs. Norma Mathews. Norma was very close to Sister Florence: thank you, Norma, for all your love and care for her. The boys, staff and the Administrator hope for your continued support for the O.M.
I thank the President, Chairman, General Secretary, Treasurer, Editor and all other esteemed members of the O.M. U.K. Committee for their tremendous hard work, and their concern, love, affection and closeness to the O.M. Without their labour of love it would be impossible to continue with our work. I thank the donors, subscribers and supporters for their invaluable contribution. Your love for the Oxford Mission is sublime, and we here feel it every moment. We pray for your health, happiness and prosperity. We are your extended family, and the bond is old and strong.
I also thank our O.M. T .A. Chairman, the Rt. Revd. P.S.P. Raju, and every member of the Trustees and the Consultative Committee. I especially thank Father Ian Weathrall, who attends the meetings without fail: travelling from Delhi to Kolkata is no mean task. I thank the staff of the Oxford Mission for working so diligently to keep the Mission on the move. Without their support it would not be possible to run a huge operation like ours. The Mission is not a one-man effort: it is all people's help and work. I thank our boys for being so disciplined. I salute their sense of love and charity. Once again I reiterate: they are GOLDEN BOYS.
Thank you all - each one in the Oxford Mission family, for all that you do for the poorest of the poor here in the O.M. Behala. Please pray for us and the Mission's work.
ARIJEET ROY, Administrator