News of our work in India & Bangladesh November 2005 - April 2006
LETTER from CHRISTA SEVIKA SANGHA Jobarpar and Barisal
The monsoons will soon be over. The heavy rains bring much relief and coolness after the hot, hot summer, but there are problems caused by the incessant rain. We have to cope with leaking roofs - there are buckets and basins all over the place, and thousands of white ants feasting on wet wood; and as usual plenty of slippery paths. As the water rises in our tanks (ponds), the beautiful little kingfishers (some are midget in size) do not have to dip so deep to catch their fish - which we put there for our food too - and the frogs have stopped their croaking.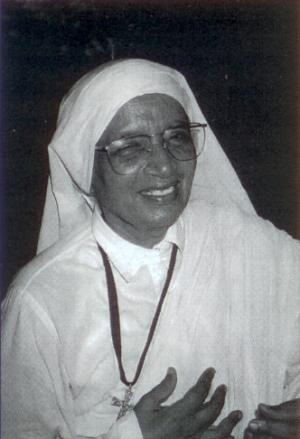 Father Francis's holiday
In May our Bishop, the Rt. Revd. M.S. Baroi, Moderator of the Church of Bangladesh, came to visit us at Barisal. He came one day to me with Father Francis SPB, and said that the Brotherhood Chapter had agreed that Father Francis could have three months of long leave visiting Ashrams in India. He asked me to 'have an eye' on the Brothers during Father Francis's leave. I've had 54 years with Sisters, and now in my 55th year it was going to be a new experience.
I have visited Dr. Paton's and Dr. Jesudason's Ashram at Trichinopoly, where Miss Joy Soloman went after her retirement from Sarah Tucker College; also to Dr. Stanley Jones's Ashram for Retired Fellowship Members (Methodists) at Sathal near Nonital, near Shillong in Assam. But now there are only Roman Catholic Ashrams in India, and Father Francis only visited six of them between the Himalayas in the north, and Cape Comorin at the southern tip of India. He did not go on foot as pilgrims usually do but by public transport (and lost his money).At the Cape there was an Ashram for all religions - Hindus, Muslims, Christians and Buddhists living together. The Christians were mostly Roman Catholic, and altogether they would spend at least nine hours in prayer.
Father Francis returned by a roundabout route as there was political unrest in the country, and so turned up unexpectedly at Jobarpar well after Evensong. Last Thursday there was a thanksgiving party for his return, and for Brother Joel, who had snapped a ligament under his knee while playing football and it has taken over two months to heal. It's good to see him walking about without crutches, but it will take longer before he can sit on the floor again!
Father Martin SPB has visited many places - Nepal, Sri Lanka and Mumbai, and soon may be going to the UK and Germany. Postulant John, who had once been at school in Jobarpar, was now getting used to Community life here in Barisal.
With the rain we have had, Nature rejoices. The trees have more green leaves, the grass has grown thick and high and the flowers are really lovely. Just outside my window is a beautiful flower, Gloria superba. It has a flat yellow base on the stem and leaves, and within four days it bloomed into a yellow and red flower, the petals rising straight up to the God who created it. The green and red parrots come swooping down to pick at the fruit when the Sisters are at church.
We also had an accident to cope with. The mother of Joy (means 'victory'), one of our boys in the Boys' Hostel at Jobarpar, is now in St. Mary's Home at Barisal. She slipped twice and her kneecap broke. She is a simple woman and it's taken her time to get used to a crutch (she preferred to crawl), and to slowly walk again. The rickshaw man, Faruk, would carry her up the steps to the Doctor's chamber.
The Synod Meeting
During last week there was the Synod Meeting at Savar, near Dhaka. We CSS had been forgotten when Father Francis, Father Martin and the Revd. Manoroma Mitra came to say goodbye. But soon after their first roll-call at 8 p.m. that night the Bishop realised CSS was not represented, so he sent an urgent phone call telling me to send two Sisters immediately. It took a little while to arrange, but by 1 a.m. Sister Jharna at Jobarpar and Sister Agnes at Barisal were packed and ready to leave early the next morning. The Meeting is still in session and they hope to return by the 8th.
At the Synod Meeting there were 73 people present: clergy, their wives and various Heads. Last Sunday the 4th September David Mridha, who did his primary schooling at Jobarpar, his High School at Barisal and University elsewhere, was made a Deacon of the Church of Bangladesh. Sister Jharna, Sister Agnes and other members return on Thursday - the day when Simon Ling and Mary Marsh come to Bangladesh for a short visit. They then go to Behala.
We thank God for the many joys we have received this rainy monsoon season, and we look forward to the cooler winter season from November to February when more visitors come. We are expecting Jean Dagenheart (Rajshahi) and Caroline Corbould in November, and Margaret How and Denis Doble who hope to be with us next February, the first weekend, when we celebrate 100 years of the Church and Mission at Jobarpar.
Wishing you all a very happy and blessed Christmas, and every good wish for the coming year.
SUSILA,
Mother CSS
and all the CSS Sisters
A Prayer for Travellers
O loving Father, we remember before Thee all those who travel or whose work calls them to the distant places of the earth; in loneliness may they be helped by the knowledge that others are remembering them; in time of temptation may they be given strength to hold fast to what they know to be right: and may the sense of Thy presence and the knowledge of Thy Fatherly love be ever with them. Through Jesus Christ our Lord. Amen.
Sent to us by Elizabeth Gegg