News from India & Bangladesh November 2006 - April 2007
Fund raising for the Oxford Mission
Together with others in and around the area of Hastings, East Sussex, I have been quietly raising funds, awareness and support for the Oxford Mission for more than ten years now. I have visited Bangladesh five times and still feel, as strongly as ever, that the invaluable work of the OM needs ever more encouragement and promotion. I hope that my humble contribution to this issue of the new-format Magazine might inspire others to an interest in the Mission, which is as relevant today as when it began more than 120 years ago.
How it all started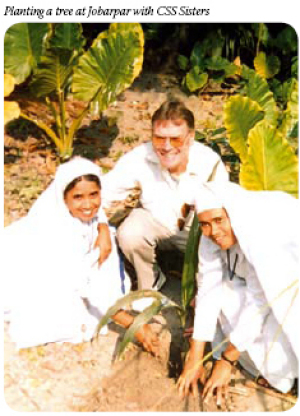 My first Bangladeshi friendships were with immigrants, principally from Sylhet, most of whom were linked to Indian restaurants. (Bengali food is one of my great loves in life, so imagine the heaven I'm in when visiting the CSS Sisters in Barisal and Jobarpar where the traditional spicy food is a daily delight!). Attending concerts given by the boys of the Mathieson Music School in Kolkata confirmed my interest; and when Mother Susila CSS came to Hastings with two of her Sisters in the summer of 1996, I met them in the house of another OM friend, Betty Houghton Betty was a CMS missionary, and ran Nazareth House, an orphanage for girls, on the compound at Behala, Kolkata for thirty years - Ed.. As a result of that brief conversation, I pledged to raise some money for Mother's Deep Tube-well Project and to visit at the end of the year.
A life-changing experience
So it was that in November 1996 I travelled first to Dhaka, and then on to Barisal and Jobarpar. This experience proved to be life-changing, put the injustices of the world into stark perspective and made me appreciate fully how the basic necessities of day-to-day living in the West are taken as 'a given' - you turn on the tap and water flows - how could it ever be any different?
It was in Bangladesh!
Mother Susila introduced me to a Bengali water engineer and his family. Also, by amazing coincidence, I met up with a Western engineer who had actually worked on a large Southern Water project in Hastings. Mother knew that access to safe, drinkable water could be given by sinking wells to a depth of around 800 feet. In some cases it was necessary to bypass the sinister arsenic level beneath the ground. The first well we financed provided water for 3,000 people in Southern Bangladesh, and relatively cheaply. No longer any need for villagers to take a chance by drinking river or surface water.
Fund-raising can be fun!
Now Mother's initiative has provided some thirty-five wells – but the need still remains, and the fund-raising continues. It can take on quite a variety of forms!
Many church-related and other clubs, associations and organisations are always on the lookout for speakers. I have now addressed many such meetings, and they invariably take up a collection or make a donation. Service organisations such as Lions International, Rotary or Round Table can also be approached.
More recently my wife and I have 'invented' our own fund-raising stall called 'Water into Wine', which proves a great hit at summer fetes etc., and helps spread the word. Also one of the Hastings Bengali Restaurant owners has written a book of recipes and makes a small donation from every copy sold. Our special 'Curry and Music' events have generated both useful amounts for the deep tube-well cause and a significant amount of publicity locally. I have even been known to appear as Elvis Presley, with photographs adorning our local newspaper!
You too can help The Oxford Mission continues to transform lives in the Third World and to instil Christian values by example. In a particularly turbulent part of the world that is vital work. Fresh water still remains a luxury in Bangladesh, and by raising or giving comparatively small amounts of money, we really can make a difference. My wife and I plan, God willing, to return to Bangladesh in 2007, and hopefully by then we will have the wherewithal to provide a few more deep-tube wells.
God bless the work of the Oxford Mission.
If any reader-supporter would like to know more about what we do here in the Hastings area, or to help with our fund-raising, please do contact me: Councillor Richard Stevens, c/o Town Hall, Queen's Road, Hastings, TN34 6RZ, East Sussex, or by e-mail: - cllr.richard.stevens@hastings.gov.uk
RICHARD STEVENS