News from India & Bangladesh November 2006 - April 2007
Letter from Bangladesh
Warmest greetings from the Church of Bangladesh.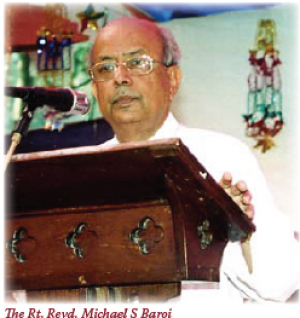 First of all, I would like you to join with me in giving thanks to God for the recovery of Mother Susila CSS, and of Mr. T. K. Byapari, Manager, Oxford Mission Barisal. Both of them were seriously ill: Mother Susila had a high diabetic level and other complications, and Mr. Byapari had a brain haemorrhage and had to have an operation. Now both of them are doing fine. But they need our prayers.
On 16-18 August we had our Dhaka Diocesan Council Meeting at our Retreat-cum-Community Centre at Savar. Eighty to eighty-five of us had a wonderful time of fellowship together. We were able to discuss and decide on matters relating to the life and work of our Church under Dhaka Diocese. This year we had our Election for New Officers and Members of the Executive and other Committees. Kushtia Diocese also had their Council Meeting at the end of August. Next year we shall meet as Synod Council.
Soon after that we had the Dhaka Diocesan Clergy Seminar from 22-25 August. That was also a very fruitful occasion for us. Besides some of us who were leading in various aspects, there were two Taize Brothers, and a Roman Catholic priest who spoke on Peace, New Creation and New Beginning. We all felt very refreshed and spiritually nourished.
From 31 August till 6 September I went out to visit some parishes under Jobarpar Deanery. They are situated in a very remote rural area. Chourkhuli parish has 60 families: most people are poor landless farmers but they are full of life. At Chourkhuli we have a Social Development Sub-Centre, a Clinic and a Primary School.
Our next station was Narikelbari, a small parish of 21 families. There also we have a Child-Focused Community Intervention Programme, a Development Office and a Primary School.
Then we went to a place called Buruabari, where we have 20 families; a place so remote that we needed a boat to get there, and then walked about a mile. We have a Children's Programme there. After Buruabari we came to Koligram, a parish which has 140 families, where we have a Girls' Hostel and a Clinic.
Then we came to Jobarpar, a place I like the most. We stayed with the OM Sisters of the Christa Sevika Sangha at their guest room for two nights, and had a very good meeting with Mother and the Sisters about the CSS. In fact I am always amazed and I thank God for all our people, who struggle every day for survival but teach me about faith and about life.
At all the above places, I heard people talk about RAIN. Due to environmental hazards and ecological imbalances, seasons nowadays do not come at the expected time and in their proper grandeur. This year we did not have a real monsoon in Bangladesh, and therefore there is not enough water in the fields for cultivation. Farmers are very worried about this. On the other hand, people of some states of India have been suffering from flooding. However, there are still a few weeks ahead of us when we may have some rain. Please remember us in your prayers. We want enough rain - but not a flood!
We in Bangladesh have another very serious concern, and that is our National Election, to be held in January 2007. Next month (October) the present Government (a four-party coalition with the Bangladesh National Party - BNP - leading) will hand over power to a Caretaker Government according to the Constitution. On the other hand the Opposition Party (a 14-party coalition with the Awami League leading) are demanding reforms in the election process and replacement of the present Chief Election Commissioner. They claim that without their demands being met they will not participate in the election, which is leading the whole nation into a situation of great uncertainty and real tension.
Both parties are adamant and not willing to listen to each other. As a result strikes (hartals), fighting and killings are increasing every day. Only God knows what price the nation has to pay to uphold and preserve the hard-earned democracy in our country. Please continue to remember us in your prayers.
With every good wish,
THE RT. REVD. MICHAEL BAROI
Bishop of Dhaka and Moderator of the Church of Bangladesh