News from India & Bangladesh November 2006 - April 2007
Letter from Bollobhpur
Dear Friends,
Sister Gillian Rose OBE has for many years trained nurse midwives at Bollobhpur Hospital, partly funded by the Oxford Mission. When she reached retiring age last year, we were afraid that her'Letters' for the OM News would cease. But Bishop Baroi asked her to continue working for as long as she could, and she agreed. We welcome another article from her beloved Bangladesh.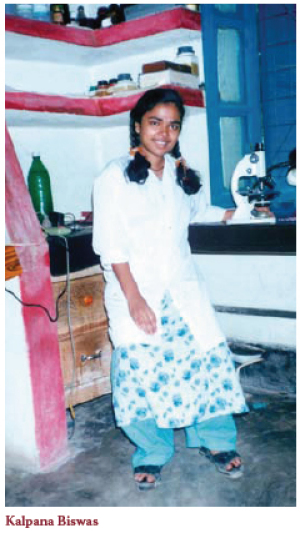 Kalpana Biswas
Kalpana is a delightful, well-educated young woman in her mid-twenties. She was born and brought up in Chourkhuli, a low-lying village in the south of Bangladesh, the only girl in a family of boys. Chourkhuli, along with the other villages of that area, floods easily, and every year the monsoon rains bring flooding, destroying crops, closing schools and village shops, and generally disrupting everyone's life. For this reason families are very poor, and find it hard to get on to their feet again after these frequent natural disasters.
But Kalpana's family managed to educate their children, first at the village school, and subsequently Kalpana studied at the Oxford Mission High School in Barisal, where she was a boarder for five years. After passing her SSC examinations Kalpana continued her studies at a Women's College in Barisal town, at this time residing at the Oxford Mission's College Hostel. Kalpana was an able student, and easily passed her intermediate (A level) examinations.
It was while she was preparing for her final degree examinations that Kalpana first became aware of a weakness in the muscles of her legs. This weakness gradually increased until she could no longer walk easily. She also developed weakness in the muscles of her hands. Kalpana was taken to the best hospital in the capital city, Dhaka, and finally across the border into India to consult specialists there. To finance this her family mortgaged or sold what little land they had, and sold their livestock. But to no avail. Healing was not to be found. Kalpana has a progressive peripheral muscular dystrophy, and the doctors could only prescribe vitamins and teach her exercises. Kalpana returned to the family home, frustrated and depressed.
It was at this point that Kalpana's plight came to the notice of Bishop Mondal, recently retired Bishop of Dhaka, whose policy in life is always to do something for anyone with any kind of need. His immediate remedy was to tell the family, "Send her to Sister Gillian at Bollobhpur and all will be well"! Kalpana's uncle is the Chairman of our clinic at Khulna, and it was during a meeting there that he told me about her and what Bishop Mondal had said.
From what I was told about her Kalpana obviously would not be able to manage our three-year junior nursing training. Just then another committee member came up with a bright idea. Our clinic work was expanding, and eventually we would need a small laboratory there to cope with the growing number of doctor's patients and the women attending the ante-natal clinic. Why should Kalpana not train to be a laboratory technician and come to run the laboratory here!
And so Kalpana came to us at the end of February, 2005. She quickly accepted the idea of the laboratory technician training, has learned easily, and is now coming towards the end of the 18-month training course. She has proved herself to be a competent student.
We gave Kalpana a ground-floor room in the student nurses' Hostel, next door to Molly their Home Sister. One of the student nurses rooms with her, to assist with anything she cannot manage to do herself, like washing her clothes. She walks with a swinging gait, one hand on the shoulder of a friend for support; and finds steps hard to manage. She is loved by everyone, helps the less able girls with their studies and the children of the staff with their homework, and never lacks a friend for any help required.
Kalpana has had much prayer and laying on of hands, and on one memorable occasion received the infilling of the Spirit, but she has not received the healing she longs for. She gets depressed at times, and nurtures a hope that one day she might be able to go to the Christian Medical College at Vellore, South India for further treatment.
Our hope for Kalpana's future is to be able to set up a small laboratory for her at our Khulna Moheswarpasa clinic. There everything is on ground floor level, and as our student nurses spend a month of their training there on rotation she will always have a helping hand available, and will be able to live in and have meals with them.
Please keep Kalpana in your prayers for her healing.
Yours sincerely,
GILLIAN M. ROSE