News from India & Bangladesh November 2006 - April 2007
Jobarpar – 100 Year Celebration
Unfortunately we had to omit Denis's speech at the celebrations in Jobarpar from the last issue for reasons of space, and are happy to print it now. It was also published in the June issue of the Parish News of Denis's local church, St. Mary's Battersea.
Bishop Michael Baroi, Bishop Mondal, Mother Susila, distinguished guests, ladies and gentlemen, children (lovely to see so many here. We enjoyed your splendid dancing and singing):
We have had a marvellous welcome here, since we arrived on the Rocket from Dhaka. I'm sorry I'm addressing you in English, by the way, but I don't have much Bangla. My three lady companions, Margaret, Liz and Diane, are all fluent however, and therefore make up for my deficiencies!
I bring you greetings from the President, Chairman, General Secretary, and members of the Oxford Mission UK Committee, and from all our supporters and also from a previous British High Commissioner, Sir Colin Imray and Lady Imray. And I also called on the present British High Commissioner, Mr. Anwar Chowdhury, who is well briefed on all our activities, and has offered to help in a small way if we can send him a suitable project. Even Oxford still features - I was delighted when I attended the Carol Service of my old college, New College, and they announced that the collection would be taken for the Oxford Mission; so we are still remembered there.
| | |
| --- | --- |
| | |
But we are here today to celebrate a centenary - 100 years of Christianity in Jobarpar. It is a wonderful story, as you all know. From its beginnings with the Oxford Movement, which revived the Church of England in the 19th century, through men like Keble and Pusey, the Oxford Mission has always been an inspiration. There was Father Benson, who founded the Cowley Fathers with their three monastic vows of poverty, chastity and obedience. He sent Father O'Neill to India, and from this visit emerged Dr. Edward King's famous meeting in Oxford in 1880, and the arrival of the first Brothers of the Epiphany in Old Kolkata. Charles Gore, one of the original founders, was later to join them.
After a successful start in Calcutta (now Kolkata), it was decided to open up a new venture in East Bengal. Father Douglass and Father Strong were sent to Barisal in 1902 to work with the village Christians in what was predominantly a Hindu area. The great Church, one of the largest in Asia, pioneered by Sister Edith SE, was consecrated in 1906, built from the common mud of Bengal, transmuted by fire into hard red brick. Father Strong was also influential in forming the Sisterhood of the Epiphany. The chief inspiration was the Benedictine ideal of a family under the direction of its Mother. The first Bengali Sisters joined, a school for girls was founded to complement that for boys, and nursing and maternity work began.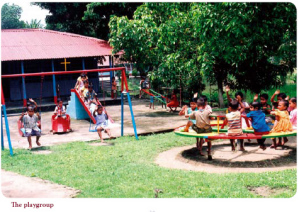 Meanwhile, pastoral work in the villages was pursued. As a result of this, in 1906 Father Conway and Father Cooke, travelling mainly in boats, chose as a settlement this lovely place where we are now - Jobarpar. St. Mary's Church was founded, homes for the Sisters were built, and a year later the Epiphany houseboat appeared.
And then, on the other side, Father Douglass founded in 1908 a site south of Kolkata near Behala, where a new school was set up, and Sisters were also recruited. But the First World War put a new strain on all parts of the Mission, as members of the Brotherhood became fewer. But the Sisterhood was perhaps at its fullest strength. Novices were recruited, and a Hostel for college girls was opened in south Kolkata. War threatened again, and when the Japanese took Burma, the price of rice rose ten times, and there were severe shortages. Japanese planes raided Kolkata in 1942, and a further setback were the Hindu/Moslem riots of 1946, when the Brothers had to hide their faithful Moslem servants. Partition followed; coming and going between Kolkata, Barisal and Jobarpar became more difficult.
Then Father James Blair BE was consecrated Bishop in 1951 -of what was then East Pakistan. Father Cooke himself was still in Barisal, dying in 1959 at the age of 93. In 1968 the words 'to Kolkata' were officially dropped from the Mission's title, and India decided not to allow further recruits from abroad. And then the most important development -the establishment of the Christa Sevika Sangha in 1970 by Mother Susila herself. This marked the transformation to a true Bengali mission, which is as it should be. After all, the Oxford Mission played a major role in creating the new Church of Bangladesh.. The CoB was to be severely tested in the War of Liberation.
Bishop Mondal, from an Oxford Mission school himself, was consecrated in 1975 in the Church at Barisal, and Bishop Blair on retirement rejoined the Brotherhood of the Epiphany at Behala, where Father Thorman presided, and Father Mathieson was developing the musical side. The legendary Sister Florence SE continued with her leprosy patients and other work, and only recently died at the age of 100.Back in Jobarpar the Christa Sevika Sangha flourished under Mother Susila's inspirational guidance, and we can see the fruits of that with us now. Archbishop Coggan visited Bangladesh, and a second Archbishop of Canterbury, Robert Runcie, arrived in Jobarpar by helicopter in 1991. (He also visited Kolkata when I was in charge there as Deputy High Commissioner, and he stayed with us, meeting Mother Teresa and visiting her homes). His visit to Jobarpar was especially memorable. It is hoped that the present Archbishop, Rowan Williams, will be able to visit Bangladesh before too long.
In Jobarpar today we have a superb compound. It contains the Parish Church of St. Mary's, two schools teaching more than 100 boys and girls, a medical centre, six large tanks stocked with fish to eat and to sell, dairy cows, a children's playgroup, and offices where the Church of Bangladesh runs programmes of education for children and adults -health education, rural education and practical farming. And all of this has developed under Mother Susila's wonderful guidance.
The UK Committee of the Oxford Mission are delighted to support you all, and the Church of Bangladesh under the inspiring leadership of Bishop Michael Baroi, who also attended an Oxford Mission school. Our supporters in Britain are still there, many loyal followers who've been with us for a very long period. Besides our financial and human support, we remember you especially in our prayers. Our very best wishes for the future.
DENIS DOBLE