News from India & Bangladesh November 2006 - April 2007
News and Events
Sir Frank Mills, KCVO, CMG
We are sad to announce the death, on 11 May 2006, of Sir Frank Mills. A member of the Diplomatic Service, his postings included Karachi, Dhaka and New Delhi, and he was appointed High Commissioner in Bangladesh in 1981. He joined the UK Committee of the Oxford Mission in 1984, and retired in 2003 due to increasing ill-health.
Frank's particular and great service to the Oxford Mission was to undertake yearlong negotiations with the Bangladesh Government resulting in the tenure of the OM property in Bangladesh being vested in the Dhaka Diocesan Trust. This cleared up a difficult and anomalous situation, after which, as Father George Golding BE wrote, "eighteen years of anxiety were over".
His wide knowledge of the subcontinent, and his quietly meticulous approach to detail in matters relating to the OM in Barisal and Jobarpar, were of the greatest value to the Committee. The General Secretary represented the Mission at the funeral in May 2006, where many tributes were paid by family and friends. We send our sympathy to his wife Trilby and all his family, as we remember a man of honour and integrity who did the Mission good service. May he rest in peace.
The UK Committee
Lady Imray, who has been on the Committee since 1994, has decided to our regret that it is time for her to retire. She and her husband, Sir Colin Imray, gave great support and encouragement to the Mission at Barisal and Jobarpar when he was High Commissioner in Bangladesh They gave generous hospitality to visiting members of the Committee, especially to Mary Marsh and her husband Andy in 1991. The three remaining Sisters of the Epiphany, Mother Joan and Sisters Rosamund and Winifred, stayed with them in Dhaka while they were waiting for their flight home to England.
We will miss Shirley very much. Her knowledge of Bangladesh and its many problems, both natural and political, was of immense value, together with her quiet, gentle wisdom in our discussions. We thank her for all the help she has given us, and wish her and Colin a happy retirement.
Congratulations!
We celebrate academic success for two of our youngest supporters. Caroline Marsh, daughter of Mary our General Secretary, has finished her studies at Liverpool University and is now a fully-fledged vet - BVSc MRCVS, with Distinction and The Duncan Norman Prize in Veterinary Preventive Medicine Caroline has helped her mother at OM Epiphany and Festival services since she was 12 years old, moving chairs, sweeping floors, serving teas and washing up with quiet efficiency: and in later years, helping her mother with the office computer! She sees her future with horses, and we wish her the best of luck in finding a congenial job.
Manab Naskar started learning music at Behala under Father Theodore Mathieson at an age when the cello he was given to play was bigger than he was! He begged for a violin instead but Father encouraged him to continue, and now his cello is his most precious possession.
He came to England with the Kolkata String Quartet from the Oxford Mission in 2000, on a trip sponsored by the late Roger Radice, and played well enough to be offered a place at the Royal Scottish Academy of Music and Drama at Glasgow. Supported by friends of the Mission in the UK, Manab graduated this summer after four years' hard work, and is now BMus.
He is undertaking further study, and is frequently asked to play in orchestras and quartets. He hopes one day to become a solo player. We wish him every success.
Sanjib and Seema's visit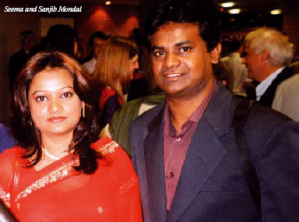 Sanjib Mondal, violinist and 'old boy' of the Mission who now has his own Music School in Kolkata and trains the Senior Orchestra at OM Behala, visited the UK for three months this summer with his charming wife Seema. Freda Davis arranged for them to stay with friends of the Mission all over the country -a considerable task, especially in view of serious illness in her family at the time. We are most grateful to her and to all the other hosts for their kind hospitality.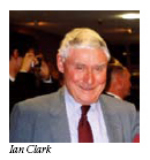 It was Seema's first visit to the UK: Sanjib had been twice before with the OM Kolkata String Quartet, and they were able to attend Manab's graduation day at the RSAMD. With them was the Revd. Dr. Ian Clark, former Principal of Bishop's College, Kolkata and for many years on the UK Committee of the OM, who has been the kindest of friends and mentors to Manab during his years of study. It was a joyous occasion for them all.
Football fans at Jobarpar
Let it never be said that nuns see nothing of the wider world. Mother Susila and the Sisters of the Christa Sevika Sangha managed to watch the World Cup Series on television this summer with great enjoyment. "We knew nothing about football and had no idea what was going on," said Mother, "but when the crowd cheered, we all cheered!"
An inspiring story of fund-raising
Friends of the OM have found many ways of raising money for its support, but Councillor Richard Stevens, one-time Mayor of Hastings, East Sussex has gone to the top of the list for ingenuity. Inspired by his visits to Bangladesh, one of the poorest countries in the world, and his perception of its needs, he not only gives lectures to churches and local societies but runs 'Water into Wine' stalls at fetes and other gatherings, and finally brings the house down with impersonations of Elvis Presley!
He writes of his dedicated work for Mother Susila's fund to provide much-needed deep-tube wells for Bangladesh, where surface and river water is frequently contaminated and shallow wells poisoned with arsenic in the soil. He offers ideas and help to anyone who would like to undertake similar work for the OM.
Thank you, Richard - more power to your Blue Suede Shoes!
GILL WILSON Editor
_________________________________________________
Wanted – a new Editor
I have been editing the Oxford Mission News since 1987, and feel that the advent of the new-look Magazine is a suitable time for a younger and more modern Editor to take over in 2007. If you are perhaps recently retired and would like a new challenge, this is an interesting and very rewarding job. The OM News appears twice a year, to give information to our supporters in the UK and elsewhere about the activities of the Mission in India and Bangladesh. It is important as at present our only official means of fund-raising.
You should of course be a Christian, and know (or learn) something about the Oxford Mission and its work over the past 126 years. A computer is necessary, as many of the contributions come in by e-mail from abroad.
You should ideally know how to proofread, and be conversant with seeing a publication through press. If not, now is the time to learn! If you would like more information, please get in touch with the General Secretary at the address on the contacts page (click here)
+++++++++++++++++++++++++++++++++++++++++++++++++
STOP PRESS
We have just heard (10 October) that Arijeet Roy, Administrator at Behala, and his wife Kanchan have both been in hospital with malignant malaria. They are recovering; but please include them in your prayers for a return to full health.
+++++++++++++++++++++++++++++++++++++++++++++++++