Cyclone Amphan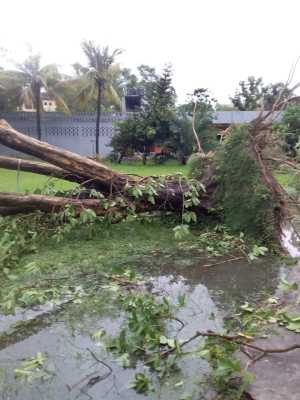 23 May 2020. Cyclone Amphan has caused extensive damage at our compounds in Bangladesh and India. At this stage we are awaiting full damage reports, but are able to share some initial photos of the damage suffered in Behala. When communications get back to normal, or at least are better, we hope to add photos from Barisal and Jobarpar.
In addition to our efforts to raise money for the Coronavirus appeals of the Diocese of Calcutta and the Church of Bangladesh, with whom we are working hand in hand to provide both food and medical supplies to those suffering from the impact of the lockdowns, we will now need to raise money for the repairs to the damaged buildings and other structures on or around our compounds. Numerous church properties now desperately need repairing, as well as homes of both current and past Oxford Mission staff, boys and girls, as well as those within the Christian and larger communities around.
Please give generously by sending donations to the General Secretary (click here) who will ensure the money is rapidly send to where it is needed. If you wish to give to a specific compound or type of work please let the General Secretary know with your gift.