LETTER from CHRISTA SEVlKA SANGHA Jobarpar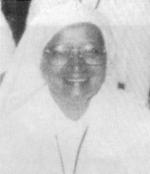 To return to the home page of the Oxford Mission (click here)
To return to the November 2003 half yearly paper index page (click here)
Dear Friends,
Once again it's time to write this letter - days pass so quickly. Yet there is always something new to write about, and tell you all about it.
Brother Martin's Ordination
Last May several of us from Jobarpar and Barisal went to Savar, 25 miles out of Dhaka, for the ordination. There were four to be ordained along with Brother Martin. We Sisters stayed in a Guest-House where there was a lift, so no steps to cope with.
After the Ordination and the cultural function after that, the Sisters went back to Jobarpar while Sister Sobha and I stayed behind till I was admitted at Birdem, the Diabetic Centre, for further treatment. Nothing much could be done to help me walk again, even though I had had a knee replacement at Chennai, but we did get a gift of a good and comfortable wheelchair. So something good does happen to help us on our way.
Sister Florence S.E.'s 100th Birthday
In the middle of June six of us planned to go to India - Sister Jharna, Sister Sobha, Novices Sikha, Sipra and Maria, and myself. This time we planned to go by road - Jessore, Benapole, Bongoan, Sealdah, and Behala. Daniel Talukdar made the arrangements in his efficient way, and we left Jobarpar on the 26th morning for Sister Florence's birthday on the 28th. We stopped for a while at the Salvation Army Centre and picked up Augustine Gomez to help us at the Border. The place was extremely crowded with a large convoy of trucks going to India. Hyder, our driver, overtook them on the wrong side and we managed to get in front of the queue. Augustine helped us to get through the formalities and in a very short time we had crossed the Border.
The Revd. Paritosh Canning and Ratan Mondol were waiting for us with a mini-bus. They helped us with the formalities this side, and soon we were on our way. We were able to stop for a while and have some food in a relaxed way once the Border had been crossed! By 6 p.m. we had reached Behala and there was Arijeet Roy, the Administrator, and Reena Sen, the Secretary, giving us a smiling warm welcome. Sambu, the cook, had prepared a savoury meal for us and it was good to be among friends again.
The Revd. Alwyn Jones had arrived a few days earlier after his visit to Haluaghat and to us at Barisal and Jobarpar. We had our meals together on the Fathers' side, and he showed us the gift he had brought from U.K. for Sister Florence - a lovely 2ft high English doll dressed in a black nun's habit. She could open and shut her eyes, and was complete with a bag in one band and a small real Bible in the other. A rosary was hanging from her girdle. She had on a perfectly pressed petticoat and white shoes and stockings. If a key was turned she would sing. It was such an exciting gift to come all the way from U.K. Our gift was very ordinary - a slab of Sister's favourite Cadbury's chocolate, and a table-cloth with 100 candles embroidered on it on all four sides by the Sisters.
Mid-morning on the 27th we crossed the tram-lines and went to see Sister Florence with our gifts. She was so happy with the many birthday cards she had received, and she and her companion Bona were getting ready for the celebration. The function was in the afternoon and we gathered in the Sisters' Common-Room, a place of many memories ever since I visited Behala in Father Douglass's and Mother Edith's days (1938).
The Room was tastefully decorated with running lights and flowers. All the bushes in the front garden also had coloured lights, and on the left side was a shamiyana (marquee) where the boys were accommodated on chairs. The Orchestra was on the left verandah - as expected, lovely music came from them.
Sister Florence came just before it was time to begin. She was determined to sit in her own chair and not the grand chair provided. A little later Mr. Paul Walsh, the Acting Deputy High Commissioner of U.K., came down the red-carpeted path along with Arijeet; and the Bishop of Kolkata, the Rt. Revd. Samuel Raju, being present the Service of Thanksgiving started.
Bishop Boiragi (grand-uncle of Sister Sipra) and the Revd. Alwyn Jones spoke, and Mr. Paul Walsh gave Sister a birthday card from the Queen. Her joy seemed complete as she kissed the photo. The orchestra played Sister Florence's favourite hymns and tunes - another joy. Soon it was time for greetings and presents. Arijeet and his wife Kanchan had a beautiful cake in the shape of a Bible which was presented to Sister, which she cut in the middle.
There were many cameras of different types and shapes - and it was difficult to make out who were the cameramen from the press, and friends who had come. Then Sourav Ganguly, the famous cricketer who lives at Behala, came with his friends. He gave Sister a large cake in the shape of a cricket field and a bunch of 100 pink roses. She was so happy as she kissed him and welcomed him warmly. He used to play barefoot on the boys' field until his uncle took him away to become a great cricketer. Sister was so happy, she stayed till the very end of the function which ended with Bishop Raju giving the Blessing in English and Bengali.
| | |
| --- | --- |
| | |
Various Visits
The next clay was Sunday, so we went to St. Paul' s Cathedral as I wanted the Sisters to worship in a big cathedral. It was Father Victor Yardi's last Sunday service there before he was transferred to Kidderpore. From there we went to see Mother Teresa's Sisters at their Mother House, and where Mother Teresa is buried. It was good to see the Sisters we knew. In their Chapel on the first floor there is a statue of Mother Teresa praying in her usual place, which looked so very real. From there we dropped in to see Arijeet and Kanchan in their own house and meet his mother, and we had a glass of refreshing lemonade on a hot day.
From there we had hoped to visit Bishop's College, the place of my birth and childhood home - but due to the roads being repaired we could not even go near the place. So we went to Kalighat where there is Mother Teresa's Home for the Dying. Several Sisters from Travancore, South India, were there. Some of our Sisters went over to the women's side and some stayed in front. There were many foreign helpers helping the Sisters. There was a young German man who had originally come to help for a few months, but now after 14 years he was still 'helping', and his mother couldn't get him to come home again. He said his home was with the dying.
That evening Sister Sobha and I went by air to Chennai to my sister Shanti's house. Her husband had died last year and I hadn't been able to visit her or Lini, her daughter. We also went to Tambaram to see a dear nephew and niece. She is suffering from cancer. Their son Kiron had clone very well in his school-leaving exam and is now at Ludhiana to study medicine. He stood first in the entrance exam.
The Sisters at Behala meanwhile did some sightseeing. They greatly appreciated their visits to the Planetarium, the Victoria Memorial Hall, and Science City. They say they learnt a great deal there. They enjoyed the tram-rides and going by Underground, and going up and down Howrah Bridge. Before leaving Kolkata there was time for a half-day shopping trip - mostly to buy embroidery silks, gold and silver thread and extras that help with their Church embroidery. On the evening before leaving, Father Victor Yardi turned up at Behala with several gifts to take back to our Chapel at Jobarpar. There was a Prayer desk, a large wooden Head of Christ, plus stand, a small organ, and a precious Cross. As we were travelling by road it was possible to bring back all these gifts and the various purchases made by the Sisters.
On the 5th July evening we were back at Jobarpar - our own place - ready to face the many problems waiting for us there.
On the l5th July one of the first Sisters of the Little Handmaids (R.C.) died in Barisal. We went a few days later from Jobarpar to see them. A few days after that I had a cyst on my back which was operated on the 21st, and since then Sister Sobha, who helps me, and I have been in Barisal for treatment - it is hoped that in a fortnight after this (i.e. after six weeks) I'll be able to go back to Jobarpar. It is healing slowly.
| | |
| --- | --- |
| | |
The First Profession of Brother Martin and Sisters Sikha and Sipra
The original plan was that the First Profession would be at Jobarpar, but as I was not well the Moderator kindly agreed to come to Barisal. Brother Jacques, Taizé, came on 2nd August for their Retreat. Brother Martin is now a Deacon and the Brotherhood is now the Brotherhood of St. Paul. There was a hartal (strike) on the 16th (Saturday) so the Moderator came on the 15th. Except for Sister Margaret, who came later with ten girls by tempo (motorised van), all Sisters, and 18 relations of the two Sisters, were in Barisal.
On Saturday 14th afternoon the Moderator gave the Sisters a long teaching for nearly two hours, which was followed by an equally long practice. There had not been a Profession here since 1993, so it was all new. On Sunday morning two car-loads came from Jobarpar just in time for the Service. The Church was full - well in time. Behind the Procession Cross there was a long gap as the dancers came slowly forward. Ruth's little niece Dipa led the dancers. They were followed by the Sisters - Sikha and Sipra leading, then the Clergy with Brother Martin leading. All the pupils of the various sections were well-behaved, and not a sound was heard at the solemn moments, especially when the Vows were being made. The Moderator preached. There were several R.C.s and Baptists present, also a few from other Religions.
There was a packet breakfast after the Service, and also a packed lunch at midday - nearly 600 in all - and the Jobarpar group took 150 packets of food when they went back. Those who came were happy to be present. We hope and pray that Brother Martin, and Sisters Sikha and Sipra, will now grow in the Religious Life with the Blessings of their First Profession.
Visitors
We have not had many visitors during the last few months. There have been the Rt. Revd. M. S. Baroi (Moderator) and Mrs. Mary Baroi; the Rt. Revd. B. D. Mondal (now retired) and Mrs. Bijoli Mondal; the Revd. Alfred C. Mondol of the Bible Society; and the Revd. Alwyn Jones, an old friend who came after many years and stayed with us at Barisal and Jobarpar. There was also a delightful family from Holland, Seibe, Yelly and Edo. Brother Jacques, Taizé, is always welcome here.
This letter is the last for the year, and I expect it will reach you all before Christmas. May God bless you all with His own Joy and Happiness, and give you all, wherever you are, His Own Peace. Thank you all very much for what you do for us.
SUSILA, Mother C.S.S.
To return to the home page of the Oxford Mission (click here)
To return to the November 2003 half yearly paper index page (click here)