LETTER from SISTER FLORENCE
To return to the home page of the Oxford Mission (click here)
To return to the November 2003 half yearly paper index page (click here)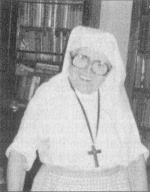 My 100th Birthday
I am almost speechless, amazed and overwhelmed! Never in any dreaming fantasy could I have dreamt this Birthday (such an ordinary little body, and quite unworthy). Our wonderful Administrator is overworking newspapers plus TV, also photos - an overwhelming business (and it goes on??). On my special afternoon I got prayers, hymns and speeches in abundance. The very nice High Commissioner brought the Queen's special card, and stayed on (so kind and friendly).
Papers and TV seemed to fill the room. I was most surprised at the sudden rush by the newspapers to photograph the Queen's card. There was an unexpected visit by Sourav Ganguly, Captain of the India cricket team, who came with some members of the Behala Sports Club - he was shy at first, but the picture shows how well we got on. The cake was huge, with a farmyard top - quite lovely.
Dear Mother Susila was simply wonderful; though full of pain and looking frail she was a wonderful support. She brought five Sisters, and I think they enjoyed the afternoon programme and joining the newspaper and TV sessions.
Father Alwyn was quietly keeping the balance - Prayer versus the Press, TV, everyone coping with great heat (one felt giddy). Above all our O.M. Blessing, Arijeet Roy, who of course knew everyone. But he had nothing to do with over 100 most beautiful cards, world-wide, three going back to my early years with the saintly Father Douglass! They are on exhibition here, and there is a framed address also. I had a very nice surprise Prayer Card and specially painted lovely wild-flowers, from Sister Mary Cuthbert, O.S.B. of the West Malling Community -wonderfully kind. Early on Saturday morning there was a bunch of red roses from the Communist Party of Kolkata!
Our dear faithful Home Front was not forgotten. I asked Arijeet if before the special Family Dinner we could remember all you generous friends and supporters, with all your work in the UK for the O.M. in India and Bangladesh. He kindly did this. The video was another surprise - I did not realise Arijeet was doing it! He is such a kind, thoughtful person. I felt like an ADVERT for the O.M.! - I hope a good one.
So, quietly, to God be the praise and glory for the special privilege which is mine! And I send a Big Special Thank You to you all. May God bless you with His Peace and Love. The Big Thank Yous are not big enough!
FLORENCE, S.E
If you would like a copy of the video, see the Publications section for details. Ed.
To return to the home page of the Oxford Mission (click here)
To return to the November 2003 half yearly paper index page (click here)>