The Oxford Mission
Data Protection
By entering this site you are explicitly giving us permission to collect certain information about you.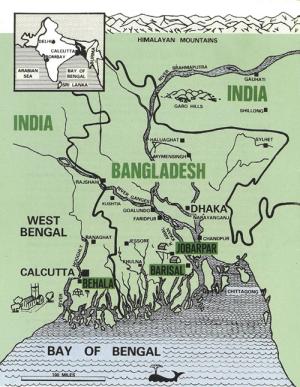 As with most websites the Oxford Mission site makes use of cookies which help us identify visitors to our site. This information is never provided, sold or otherwise given to third parties and is used only for internal purposes within the website itself. The Oxford Mission does not use this information for any purpose beyond the site itself. As such it is not used for marketing or any other contact with visitors to the website, unless they specifically request this via an e-mail message from the site or direct to the Oxford Mission, or otherwise by writing direct to us. Any person can request that we delete all information concerning them that we may possess, and all efforts we be undertaken to do this as promptly as possible.
Our origins
In 1879 the Bishop of Calcutta, acutely aware of the work to be done among the educated people of the city, appealed to the University of Oxford. In response, ten men outstanding in intellect and spirit met in Canon (later Bishop) King's room at Christ Church and there the Oxford Mission came into being. It was decided to form a brotherhood of the Epiphany: Bishop Charles Gore drew up its Rule.
By 1880 the first Brothers had sailed for Calcutta, to live and work in the city close to the University and its colleges.
Some years later, again in response to a call from the Bishop, Brothers were sent to a rice-growing area east of Calcutta, to care for a neglected group of village Christians. Then in 1902, because pastoral work could not be carried on by men alone, a Sisterhood (also dedicated to the Epiphany) was formed at Barisal under the guidance of Fr. Strong. Later branch houses were formed at Behala, south of Calcutta, under Fr. Douglass, and at Jobarpar, thirty miles north of Barisal.
The partition of India in 1947 resulted in the separation of the Mission work in Calcutta, India, from that in Barisal and Jobarpar, Bangladesh. The brotherhood has come to an end, but in India the work continues under an Administrator appointed by the Bishop of Kolkata, and in Bangladesh under the supervision of the Diocese of Dhaka.
Our Mission today
At Behala, India, there is a boys' orphanage, St. Joseph's Primary School, an English-medium Primary School, Hostels, training schemes for less academic boys, and an ENT/Eye clinic.
At Barisal, Bangladesh, the Mission runs boarding schools, Christian students' hostels, St Anne's Medical Centre, an orphanage and a Primary School. A Bangladeshi Brotherhood of St. Paul was also formed in 2003.
In 1970, a Bangladeshi Sisterhood was formed in Jobarpar, the Christa Sevika Sangha. The Sevikas supervise boys' and girls' hostels and a play-centre for small children, help in St Gabriel's School and supervise St. Mary's Home in Barisal.
To read the latest news please (click here).
Current news headlines
General Secretary Mrs Margaret Miles has decided to retire from serving the Oxford Mission. She will stop working on 31st October. We are sorry that she will no longer be working for us and would like to thank her for her excellent work. Having moved to Cornwall, where for all the benefits of rural life have been a joy, the frustration of reducing services has made it increasingly difficult for her to do many of the simpler tasks such as visiting the post office or bank, with often huge distances, and thus much time, necessary to complete them. Nonetheless she has shown herself to be very dedicated and has done an excellent job, and will be much missed by the UK Committee, Behala, Barisal and Jobarpar, and of course by our many supporters in the UK and throughout the world.
We are now looking for a new General Secretary. So if you know anyone who would like to apply please ask them to contact us via the General Secretary address (see contact on the left of the screen) or send us an e-mail (details in the Newsletter or via the box the Projects page - don't forget to put contact details in the message!).

Bishop Mondal: We have received the sad news that Bishop Mondal, Bangladesh's first national Bishop and also former Moderator of the Church of Bangladesh died on June 29th. His funeral took place on Sunday 30th June. He was a great friend and supporter of the Oxford Mission. More information on his life can be found by clicking on his picture.
Postulent sister Martha became a Novice on 25th January, our CSS Foundation day, please pray for her for all the programmes of the CSS and the Oxford Mission in Bangladesh.
Col. Subir Ghosh retired from office as Administrator at the Oxford Mission in Behala, Kolkata, India, at the end of January. We thank him for his diligence and hard work over many years and his extended stay as Administrator. Simon Ling, Chairman of the UK Committee wrote to Subir and said "We are all extremely grateful to you for what you have done for the boys of the Mission during your period of office, and for the maintenance and security of the buildings and grounds. We are also impressed with the efforts you have made to seek local sources of income for the Mission, and how these are already bearing fruit." We wish him and his wife every happiness in a much retirement.
The role of Administrator in Behala has now been split. We are delighted to announce that as from 1 February 2019 Mr Arnab Mandal has taken up the position of Associate Administrator. Mr Raghav Naik has taken charge as Secretary of the OMTA from the same date. Arnab has many years of working experience in international children ministries including Compassion International before joining the Oxford Mission.
Following the sad death of Sister Superior Jharna and the inter-regnum during which Senior Sister Ruth took over temporary charge of the Christa Sevika Sangha, the sisterhood has now confirmed the appointment of Sister Dorothy as Sister Superior. We congratulate her and thank Senior Sister Ruth for her hard work.
We are saddened to report the death of Fr James Stephens, OBE, who died on Easter Sunday. Father James has been involved with the Oxford Mission for many years, becoming Administrator for a period whilst also managing his own charity, Udayan, a home providing medical care, schooling and vocational training for children affected by leprosy. Our thoughts and prayers are with Lolita, his wife, and his family at this time, as well as with Udayan and all who work there.
Why not get involved with our work?
The Oxford Mission welcomes support in various ways:
Financial support: You can give money to support the work in India and Bangladesh through contacting either one of the Mission locations directly or through the General Secretary's office in the UK. In addition, from time to time the Oxford Mission looks for specific types of help such as sponsoring of a child at a European musical college, or providing board and lodging for a given period of time to one or more members of the Mission that may be traveling overseas. To see our current projects (click here). If you would like to give financial help please look at the Donate! (click here) or Contacts (click here) pages of this site for details of how and where you can do this.
Voluntary work: From time to time one of the Missions can welcome volunteers either on specific projects or for general work. If you are interested in voluntary work please contact the General Secretary.
Prayer: All involved with the Oxford Mission welcome your prayers and support for our work. A daily programme of prayers, which you are welcome to follow, can be found in the latest Newsletter (click here)
Change of address: Please note that we have now changed our postal address. You can now contact us by post at c/o Ms P. Walton, 6 Lodge Vale, Romsey, SO51 6AU. Our other contact details remain uncahnged and can be found on the contact page.