A tribute to Mother Susila
Extracts from a Church of Bangladesh publication on Mother Susila released after her death
A brief bio-graphy of Mother Susila Sitther CSS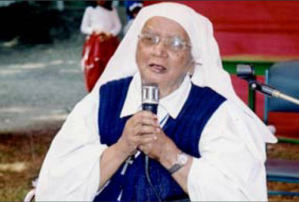 Susila Sitther was born on the 27th of December 1924 at Bishop College, Kolkota. Her father's name was Revd. Thomas Sitther and her mother's name was Mrs. Sundari Sitther. She was the fourth of five daughters for her parents.
She began her school life in Pratt Memorial School in Kolkata. She had to leave Kolkata for Bangaluru in 1936 for family reasons and to got admission in Bishop Cotton School. At the end of the same year she returned to Kolkata again where she later completed her matriculation from St. John's Diocesan High School.
From 1939 to 1940, she was with the Sisters of St. Clare's. Later, she went to South India to do her Intermediate in Arts.
She completed her B. A. (Hon.) in English literature from Braborni College in 1945.
In those days exams for graduation were held in Loreto Monastery where Mother Teresa was living and she was the invigilator. This incident was the beginning of a life-long friendship between the two ever-remembered ladies of history. Susila encouraged Mother Teresa to help the starving people of the Bengal in famine.
In 1945, when she was just 21, she appeared for the test to begin her profession in the Sisterhood of Epiphany in the Oxford Mission. She also visited the Sisterhood in the Oxford Mission.
She was attracted by the many works among the orphan children and refugee women in St. Mary's Home, Barisal. In 1950 she came to Barisal again. This time, Father Golding, Father Cook and the teachers of St. Agnes School, Barisal joined her from Kolkata. On the 4th of October 1950, the day of St. Francis of Assisi, Susila entered into the novitiate of the Sisterhood of Epiphany.
In 1955 she took the charge of St. Agnes School and the boarding department for the girls. She also started a girl guide company in the school at this time.
In 1960 she made her final profession and left St. Agnes School to go to Jobarpar mission.
In 1969 she planned for a new order, which was later named as Christa Sevika Sangha, the Handmaid of Christ. This was founded on the 25th of January 1970.
In 1993 Father George Golding consecrated Sister Susila as the Mother of Christa Sevika Sangha.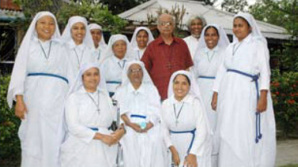 She continued to encourage many Bengali girls to join Christa Sevika Sangha. At present there are10 professed Sisters in the Christa Sevika Sangha (one of them yet to take Life Vows in August this year) who were influenced by the devoted life, encouragement and teachings of Mother Susila, although she has had to struggle a lot in her life and overcome many challenges in the long journey of her ministry.