A tribute to Mother Susila
A few reflections on Mother Susila …
My association with the Oxford Mission goes back to 1976, but it was not until 1999 that I made my first visit to Jobarpar and met Mother Susila, I was immediately overwhelmed by the beauty of the compound, with its profusion of flowers, shrubs and trees, the well-planned and immaculately maintained grounds, ponds and buildings, and by the peaceful atmosphere.
When I made that first visit Mother Susila had already been there for 30 years after establishing the community ofthe Christa Sevika Sangha. She and some of the Sisters met me at the airport at Barisal, and on the journey to Jobarpar, and in the days that followed, I came to appreciate and love the purposeful, ordered and active life of the Community and the gentle but firm leadership of Mother Susila.
Mother Susila was kind, understanding and practical. She had a clear vision for the life of the Community. She had a wonderful sense of humour. She knew and understood the Sisters.She trusted her own judgement, and she was a natural leader.
She grew old painfully but graciously. She was held in high esteem and was greatly loved. She will be sorely missed.
May she rest in peace at her beloved Jobarpar.
+BILL DOWN
President of the Oxford Mission
In my last post as High Commissioner (1978 – 79) in Bangladesh, I had the privilege of meeting Mother at Jobarpar on one or two occasions, and thought highly of her. She was in the best tradition of British/Indian missionary activity – kindly and thoughtful, loved and appreciated by the Sisters and the children, with a nice sense of humour, and well-organised! I hope her work can continue at Jobarpar, and possibly also at Barisal.
STEPHEN GILES
Vice-President, Oxford Mission
In my recent memories of Mother she is sadly bedridden but nevertheless very pleased to see visitors and keen to have news from England and indeed from any of the OM institutions. A few years ago she was still able to make the journey to Jobarpar and I experienced a "van" ride with her to one of the nearby villages. I shall always remember her hospitality on my first visit to Jobarpar when I enjoyed a tour round and was encouraged to plant a coconut palm. I remember being shown the Chapel and the little piece of land behind it reserved for a burial ground - in particular for her, where she will now be able to rest in the beautiful surroundings.
SIMON J LING
Chairman of the Oxford Mission
Mother Susila was very kind to me when I visited Jobarpar in 2006, as were the CSS Sisters. She will be hugely missed in many places, especially Chennai, where she comes from. She was the daughter of Canon Sitter, a very well known priest there. She was a friend of Robert Runcie, who always invited her to tea when she came to the UK, and of Canon Smith-Cameron of Southwark, who still sees her sister, Shanti, when he visits Chennai.
DENIS DOBLE
Committee member, Oxford Mission
| | |
| --- | --- |
| | |
I first had the privilege of meeting Mother Susila in the late 1980's when she was in England and I was Assistant General Secretary to the Oxford Mission. Everywhere she went in the UK people were interested to hear her enthusiastic and joyful but sometimes sad stories of the work that the CSS were doing in such a poor country. When I visited Bangladesh in 1991 with my husband we stayed with Mother at Jobarpar and saw first-hand the love she had for the Bangladeshi people. She was such a wise lady with a very quiet way of doing things - Mother used to say 'slowly, slowly' that is the way we get things done in Bangladesh! She was devoted to her Sisters, to the little children and to the people who helped her. My very fond memories of Mother will stay with me forever and I shall miss greatly the weekly telephone calls where news of any events at home and away were shared, with much laughter sometimes. I loved her and will miss her, may she rest in peace in the beautiful surroundings of her beloved Jobarpar.
MARY K MARSH
General Secretary, Oxford Mission
I got to know Sister Susila, SE during my time in Dacca 1958-1964. I have more memories of her than of many of the other sisters and she always impressed me. When I moved to Calcutta in 1965 I saw little of her for many years as communication between India and Pakistan was all but impossible following the war of 1965. I returned to the UK in 1973 and saw Mother Susila on her visits. She made a deep impression on many including Archbishop Runcie. On television I saw him describe how he was moved to tears by what she told him of her work. I saw Mother Susila over the years in this country and on my visits to Bangladesh. Her legacy is the vibrant worship and witness of CSS and we must pray they go forward aided by her prayers for us all on another shore.
ALWYN H G JONES
Committee member, Oxford Mission
When it was agreed that I should visit the Oxford Mission in India and Bangladesh for the first time in 2008, all the UK Committee members told me how welcoming and friendly everyone would be - especially Mother Susila. How right they were!
Although I only stayed for a few days (visiting both Barisal and Jobarpar), I felt that I had known Mother for so much longer. She had such a zest for life - with a wicked sense of humour. I recall her supervising games of Mousey Mousey in the evenings, and even though she did not play, she so enjoyed watching the Sisters, Mary Marsh and me having great fun trying to catch each other out. It was obvious that she loved all the children in the care of the Mission and was always interested in what they were achieving, and they, in return, loved her. Above all, she had a deep faith in the Lord, which meant she saw the good in everyone.
I am so sorry I will not meet her again, but I will never forget her.
PAMELA WALTON
Editor, OXFORD MISSION NEWS
Mother Susila was such a wonderful special person. I first met her in Bangladesh in 1974. Jobarpar was a real oasis when I needed a break. Mother told me it was my village home and she and the Sisiers were so hospitable and loving. Mother Susila was so wise too and listened and suppor ted me. She was such a wonderful example of Christian love, wisdom, patience, peace,gentleness and joy. Mother made one feel special. When I left in 1979 I was invited to plant a betel nut tree at Jobarpar. Something I have never forgotten!
When Mother Susila and the Sisters came over they visited us in Cumbria and in Winchester.So we have happy memories of those special times. I will always be grateful to Mother Susila for inviting me for the 100 Year Celebration at Jobarpar. It was such a joy to see Mother and the Sisters again and their hospitality was as warm as ever. Mother Susila thought of everything, including giving us flowers when we arrived off the rocket at Barisal. Everything was always done so beautifully and with such live and care. Mother Susila has left such an important legacy in theChrista Sevika Sangha and I hope and pray they will continue for many years to come. I will always be grateful to God for the privilege of having known and loved Mother Susila. I will miss her very much.
MARGARET HOW
Committee member, Oxford Mission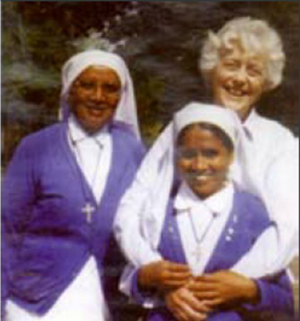 I first met Mother Susila in 1989 in Dhaka and loved her from the first. She was very intelligent and easy to talk to, and told me so much about the work of the Mission and the people involved. And she was thoughtful and kind in other ways. Who else would have guessed that, on my first visit to Bangladesh, I longed to ride in a rickshaw? She did; arranged it for me, and accompanied me herself. All my friends were wearing gold chains that year - and I really wanted one. Of course I did not tell her so; but she somehow guessed this too, and gave me one from the bazaar! It is still a prized possession. We met again at Jobarpar and it was there in that beautiful compound that I really felt we became friends. I met the Sevikas, and found the beauty of holiness in the little Chapel and in the way Mother ordered the happy life around her. It was a wonderful experience, and I will never forget it. After that I corresponded with Mother regularly, and now and then she would ring me up and tell me all about what was going on in Jobarpar. Our friendship flourished, and I enjoyed meeting her again on her visits to the UK when she would tour the country preaching about the Mission. She was an excellent and popular speaker, and gained new supporters for the OM wherever she went. I came to Jobarpar again in 1998, and found just the same atmosphere of goodness and loving-kindness around her. We all prayed for her during her long illness, and are happy that now she is with the angels.
GILL WILSON
Past Editor of the OXFORD MISSION NEWS & Committee Member, Oxford Mission
My visits to Mother Susila over a number of years will always remain among the most memorable experience that I have been given in the course of my ministry.
Bishop RONALD GORDON
Past President, Oxford Mission
Mother Susila was a gracious, godly person with a delightful smile on her face. She gave so much to the Sisters in Jobarpar. I remember meeting her with great fondness.
The Revd Canon ALVYN PETTERSON
Past Committee Member, Oxford Mission
During Colin's appointment as British High Commissioner to Bangladesh, we visited the OM in Bangladesh many times. The journey was not at all easy in the early 1990s and yet the moment we arrived hot, weary and tired, the peace of the compound at Jobarpar revived us and Mother's perfect care enfolded us. Although many might say that the accommodation was basic, the simplicity, order and cleanliness were balm after 12 hours on the road and Mother seemed to know exactly what we needed, and all the perfection of her arrangements and catering were blissful. An experienced high-society hostess couldn't have double-guessed or provided better for her guest's needs.
Incidentally, we were fortunate to travel by road and ferry. When Archbishop Runcie left our residence for a pastoral visit there, the Bangladesh Air Force were to fly him. He arrived eventually, but had been 'hijacked' en route and taken by the pilot to the Officers' Mess at Jessore because his bravery and distinguished military career meant that an English hero must meet his colleagues at the Mess before they would allow him to carry out the rest of his programme. Once again, Mother coped, and all the ceremonies were put on hold and were, as you might expect, as joyful as ever. The Archbishop said to us afterwards that the Chapel at Jobarpar 'is truly a Holy Place'.
Colin and I were able to repay a little of the Sevikas' hospitality to us in 1995 when Mother, Anima and Shobha spent 4 days with us in Wallingford. England was experiencing a heat wave at the time, and they were greatly admired in the town and as we walked by the Thames, not only for their grace and dignity but also because they were the only ones who were dressed for the temperature. In their handloom white cotton saris with the distinctive blue border, they were frequently stopped by complete strangers, who expressed their admiration and welcomed them wherever they went.
Mother's sermon at St Mary's Church during her visit was both spiritual but wise in its construction. Afterwards, she told us of advice from Fr Golding which was never to ask for money when speaking of her work. Despite never once mentioning it, she got a very good and generous response which has continued regularly since.
I benefitted personally from Mothers spiritual guidance. She is still remembered by our Church, and by us, with immense admiration and love.
Lady IMRAY
Past Committee Member, Oxford Mission
It was a privilege to have known Mother Susila, and the last letter in the OM magazine is a tribute to what the CSS, under the leadership of Mother, have accomplished and are still accomplishing.
LILIAS REDPATH
Past Committee Member, Oxford Mission
Mother was so special, and her life touched so many – far beyond the CSS and Bangladesh. I know I owe a lot to her. It feels as though a light has gone out.
The Revd EILEEN THOMPSON
Church of Bangladesh
You have my deep sympathy for Mother Susila's soul. I pray that her soul is at peace and she has no more pain. Mother was an OM Sister when I first met her in Dhaka 45 years ago and I have always been thankful of Mother Susila's friendship through my life.
HELEN KYOKO TATEYAMA
one of the first Japanese Sisters to help in the maternity hospital in OM, Barisal
Although not expected, we are nevertheless very sorry indeed to have lost such a lovely person with such wonderful character and personality. She was a brilliant leader of a wonderful Community which her untiring efforts had managed to create with tremendous affection and dignity. We pray for them and hope all goes well for them.
DAVID and WINIFRED de MASSEY
Friends
I was saddened to hear the news of the passing of Mother Susila. Although this was not unexpected it does not lessen the impact that the loss of a friend for whom I had the deepest affection and admiration. She was a close friend to my late wife Barbara, and some land adjacent to the Mission in Jobarpar was bought and is named 'Barbara's Garden'. Our friendship goes back to the early 1960s when we were working in Dacca and Mother was receiving treatment in the Holy Family Hospital near to where we lived. It was always a pleasure to share a meal with her when she could visit us. It is indeed a privilege to have shared friendship and fellowship with her for almost 50 years and it is my earnest prayer that her soul may rest in peace and that light perpetual may shine upon her. With it, my very best wishes for God's blessing on the Sevikas and their future.
PETER GREENWOOD
Friend
I first visited Jobarpar with my friends Liz and Judith twenty-plus years ago, Liz Collins having known of Susila via a previous visit to the UK. I had worked with Bangladeshi women here and so 'tagged along' to see the reality of Bangladesh. Fifteen years ago I re-visited, this time with my husband Morley and out two children. Susila always wrote after those visits, and came to stay with us and visited my parish of St John's in Moston in north Manchester. I retain a wonderful black-and-white photo of Sisters Agnes, Jharna and Shobha playing tabla sitting on the vicarage lawn. The music was always so special! Profound thanksgiving for Susila, her warmth and generosity, and all she gave to the Church and religious community, also to so many people, including the poor in the nearby villages. May she rest in peace.
The Revd SUE MORGAN
Friend
I felt a bond of association with Mother Susila, as one who ventured out (perhaps initially with some criticism here and there), creating under God a continuing Sisterhood in Bangladesh. She joins that rich tapestry of Fathers, Brothers and Sisters of the OM who served India and the territories which once were part of Old Bengal. We can be grateful to God for His goodness as found in them all.
BILL MARKHAM
Friend
We first met (Sister) Susila in May 1981. My parish of Lower Hardes (and 5 others) supported the OM, but as nobody knew anything about the Mission, I asked for a speaker. We had no idea that we should be hosts to such a saint! Susila made several other visits, usually with other Sisters from Bangladesh, and it was a privilege to entertain them. When we moved to Sittingbourne in 1990, we were delighted to continue our contact, especially as Fr Golding came from that parish. I wear the priest's stoles she gave me with privileged joy. My children Dickon, Heidi and James also share fond memories. While saying goodbye to Mother Susila at Heathrow at the end of one of her trips, she said we would all meet up in Jerusalem. Yes, New Jerusalem!
RICHARD and CHRISTINE LOVE
Friends
My first meeting with Mother Susila was when I was a novice in the CSJB and working in the Retreat/Guest wing of the Convent at Clewer. She came to stay in 1987 for a few days with a number of her Sisters, and I remember she did most of the talking as the others did not speak much English. Two things stand out for me from that visit: the first was when she came to me and asked if it would be possible to have a bowl or bucket and a jug put in the 2 bathrooms they were using, because that was how the Sisters preferred to bathe. I realized then that hot running water was probably a great luxury to them, and they certainly did not want to waste any more of it than necessary.
The second thing is the hour-long conversation we had when she told me her story (and asked about mine), which I found so moving. Her love of the Lord, and her huge commitment to what she had chosen to do with her life, clearly gave her great joy. She also told me a lot about Bangladesh, the way of life of the CSS, the children they cared for and of the people in the villages around, and she ended our time together by saying 'You'll have to come and see for yourself'.
Those words never left me, and so it was that a few years later I raised the possibility of a visit to Jobarpar and Barisal before I parted company with my money when I took my final vows, and to my great joy, permission was granted.
The Community also agreed to pay for Sister Edna Frances, the former Mother Superior, to visit with me even though by then she had reached her 80th birthday. It had always been a long-cherished dream of hers to be able to visit the Sisters, and she loved every minute of her stay, as I did.
So what stood out about Mother Susila when we visited her in December 1998? Firstly, seeing her welcoming wave beyond the mesh barrier at Dhaka airport when we got through the checkout and were heading for the exits. Then being driven immediately after we were reunited outside the terminal through Dhaka to find sandals that we could just push our feet in and out of when we went to chapel. The same sandals went on my second visit but sadly, after returning home, had more than served their purpose. Finally, going with her to a meeting of the Deanery at which the Bishop was to be present and where there was a lunch after the meeting – and one vehicle after another broke down and it got later and later, but Mother Susila was not to be deterred; we would keep going. (We arrived for about the last 10 minutes of the meeting but in time for lunch before setting off back home). I decided not many people of Mother's age would keep going so determinedly because she did not want the Bishop to think we hadn't bothered to go.
I returned for a second visit to Bangladesh as part of my sabbatical in March 2009, and to my great joy Mother Susila was well enough to be sitting in her wheelchair at the head of the table to welcome Bishop Michael Baroi and his wife and me when we arrived at Barisal. It was wonderful to meet with her again and we were able to have some time together talking in her room. She still kept so much enthusiasm, and her mind was still very active and she certainly saw to all the arranging for my return journey by coach to Dhaka. She insisted that 'the boy' should accompany me because I could not travel on my own; the boy in question was one of the OM students.
Mother Susila was a very remarkable woman whose life was dedicated to the greater glory of God. She leaves behind a considerable legacy the Sisters of the CSS, deep tube-wells in a large area around Jobarpar, and many, many people grateful for the opportunities they have had because of her vision and hard work and above all her deep faith and prayerfulness. May she rest in peace and rise with Christ in glory.
Sister ANNE
Community of St John Baptist (CSJB)
I first met Mother when I was Mayor of Hastings,E.Sussex in 1996. Mother was briefly in our town and I went to meet her and the accompanying Sisters at Betty Houghton's house in our Old Town. It was to prove a life-changing moment. The Mathieson Memorial Music School had also visited and played in our Town Hall. I already knew of the OM's work and had a long-held interest in Bangladesh. My contact in Hastings was the late Canon Hugh Farley.
Mother spoke to me in that quiet but persuasive manner of hers and described how desperately fresh water was needed in the villages of Southern Bangladesh. She then explained her deep-tube well project, and by the end of our conversation I had agreed to travel to Bangladesh and to raise money for her project. Since that meeting, I have now been to Barisal and Jobarpar some six times and have such wonderful memories of staying in the Mission compounds with Mother and the CSS Sisters. I have also been able to fund several tube wells and to help their vital work in other ways.
Mother was such an extraordinary person with a deep faith and great vision. She was and still is a great inspiration to so many. I will never forget spending Christmas 1999 and the New Year 2000 with Mother and the Sisters. As we travelled by "van" to visit the poor and sick, she put everything into perspective.
I will miss her dearly, but the work goes on and I intend to visit Bangladesh again, God willing, next year. God bless dear Mother and all that she achieved during her long life of devotion and determination. I pray for her and the continuing work every day. Mother Susila was indeed a very special lady.
Councillor RICHARD STEVENS
(Mayor of Hastings 1993 – 1996), friend
When Mother Susila and 3 of the Sisters were in England in 1987, they came to visit our group, St Paul's Mothers' Union, in Paignton. She told us of the difficult lives of women and children and how the CSS were helping them. On her second visit in 1991, Mother Susila said how shocked both she and the Sisters were to see that we put our old people into a Home. In Bangladesh, the elderly become a member of their family and live with them, but this puts a great strain on people who have very little money or food. Being an elderly group we could appreciate the problem, so we started a 'Grannies Fund' to help. All out coffee and tea money went to that, plus we held a 'special Grannies' event annually.
Gwen Hamblin
Supporter of CSS
Mother Susila was a very inspirational person, kind, gentle and humble. She bravely endured her years of bad health with amazing fortitude. During their visit to England in 1991, the Sisters visited our church, Holy Trinity , Lamorbey, and Sister (as she was then) gave a thought-provoking address during our 10 a.m. Sunday Eucharist. They stayed in our home on the Saturday night beforehand, and all our family had an opportunity to meet them. Our grandson James had just been confirmed, and the Sisters gave him a beautifully hand-made little model of a Bengali fishing boat. Now a man of 32, he still has that model and treasures it. For many years we have maintained a keen interest in the wonderful work of the OM and in the CSS at Jobarpar in particular. We shall really miss reading Mother Susila's full and down-to-earth reports in the OM magazine. We give thanks for all she achieved in the Lord's name.
Lesley and John Mills
Friends
Mother Susila was a very special person. Our first and most affectionate memory of her is at the time when we were evacuated from Bollobhpur Hospital in Kushtia and lived at the OM in Barisal for a time in 1965. We felt that Sister Susila (as she was then) was our ally, as she seemed to understand how difficult it was for us living in such a different environment and trying to fit into such a difficult lifestyle. We particularly remember her friendly encouraging smile when we passed her during the time when the Sisters were keeping silence. Most of them passed by with eyes averted as if we weren't there! Susila's warmth and understanding was a tremendous help at a difficult time.
Both Meg and I visited Jobarpar at different times and again remember the warmth of the welcome which Mother Susila and the Sevikas gave us. Everyone loved and respected Mother and all who visited were impressed by the peaceful, serene atmosphere there. I also remember Susila when she came to England with a few of the Sevikas and visited Compton Durville. I went down to see them there and will never forget seeing them out in the garden picking strawberries with a wonderful child-like delight. We shall never forget her. It is good to think of her now rejoicing in Heaven with the Lord she loved and served so well here on earth.
Pat Bennett and Meg Clapham
Friends
Mother Susila has been instrumental in the growth of our faith – from the time she and some of the Sisters visited Stamford Leisure Pool in the 90s to see the swim school in operation to the subsequent invitation to Bangladesh to teach the little ones swimming in Jobarpar – our lives changed. Work was promptly set about to empty the water from the little 'pond' near the visitors quarters in Jobarpar, the fish extracted and the dirty water pumped back in! I couldn't see a limb in the water! Sports day was amazing, with prizes to give out as well! It was an uplifting time, and we couldn't wait to return.
We were spurred to raise funds for the OM, incorporating the children and parents at the swim school to support them and, after seeing the tireless work done by Mother in the local Muslim and Hindu villages, providing deep-water tube wells, were eventually challenged to pray in Peterborough working with other faiths, and introducing St Mary's there to support the OM's work.
To be touched by silent prayer early in the morning in Jobarpar chapel; watching Mother spread peace, humility and generosity wherever she went; her daily dealings with those around her on the compound, was special. Travelling around with her and some of the Sisters, we observed the reverence and quiet authority with which she touched the people she helped and administered to. Nothing was too much trouble for them all, and we were even privileged to be the first recipients of a running W.C.!
But our time spent in Jobarpar and Barisal with Mother Susila and the wonderful dedication of the Sisters wasn't really about the teaching of swimming, as we have realized later – it was about outreach and support, encouragement and the sharing of our stories that have touched our lives. Not many days have gone by since those visits when we have not held them all in our prayers. May Mother now rest in the peace she deserves.
Anne and Geoff Emery
Friends
I first met Mother Susila in 1969 soon after I arrived in East Pakistan as it was then and was present in Jobarpar for the Inauguration of CSS in January 1970 before I returned home. My early memories are of her helping me with writing out Bengali bible readings in phoenetics so that I could take part in prayers in St Anne's Hospital. I returned to Jobarpar at the end of the following year after an amazing journey to get there with Fr Golding – broken buses, walking across tree trunks where bridges had been blown up during the war, a bumpy rickshaw ride to Agailijhara and then a walk to Jobarpar across broken iron bridges.
I was lucky enough to re-start the clinic at Jobarpar, with 2 of the nurses from Barisal, in 1973, and so was able to spend more time with Susila. By this time, Susila and the Sevikas had developed their wonderful welcome and hospitality for all visitors and which so many more people would experience over the years. This shone from Susila all the years from when I first met her. Everyone else came first, a true example of loving your neighbour. I realized then that I would very much like to work full-time at the clinic and this dream came true in 1975. Susila wrote me a welcome note at that time, and how I appreciated her love and advice during those 2 years that I lived out in the villages. In the evenings, I would go over to the compound and sit on the verandah with her and we would put the world (our very small one!) to rights.
I left Bangladesh in 1980 to return home, but since then I have made several visits. In 1992/93, I spent a wonderful Christmas at Jobarpar, also celebrating Susila's birthday there on 27 December. I stayed and celebrated Epiphany with Susila, all the Sevikas and the remaining OM Sisters – Joan, Rosamund and Winifred – before they finally left Bangladesh for good, travelling back with them to Dhaka. This was a milestone in OM history. As all those who have visited since know, the CSS have done a wonderful job, guided all the time by Sister (later to become Mother) Susila. What strength and courage she had. In the 1990s, Susila and some of the Sisters visited the UK, and during their trip they visited the OM Sisters at Ditchingham, Norfolk. I took them into Norwich where we visited Mother Julian's Church and shrine, so now I always feel close to Susila and the Sevikas whenever I visit these places. In 2000 I had the privilege to be able to return to Bangladesh with my dear friend Jean Degenhardt to celebrate Susila's Golden Jubilee. What a memorable celebration it was, with many friends, her sister Shanti (whom I hadn't seen for 30 years!) and no less than 4 Bishops present.
I give thanks that I have had the privilege of having known, worked with and become a great friend of Susila.
Caroline Corbould
Friend
I first met Mother Susila in 1999 at the 25th anniversary of the Rajshahi Nursing School. I had heard so much about her from Caroline (Corbould) that I felt I had known her for many years. I then had the opportunity to attend her Jubilee Celebrations in 2000. It was a special celebration and Caroline and I felt very welcomed. Since then, Caroline and I have visited Mother Susila twice. On our last visit in 2010, we celebrated our 65th birthdays while there. Although Mother was frail, she was so welcoming and loving and we have wonderful memories and photos of our special time together.
It was an honour and a privilege to know Mother Susila. She has, together with the Sevikas, created communities in Barisal and Jobarpar which reflect Christ's love and peace. I will remember Mother for her great generosity of spirit and her love for Jesus, which shone through her, touching all who met her.
Jean Degenhardt
Friend